Park Hyatt Chicago to unveil redesigned suites in partnership with Bottega Veneta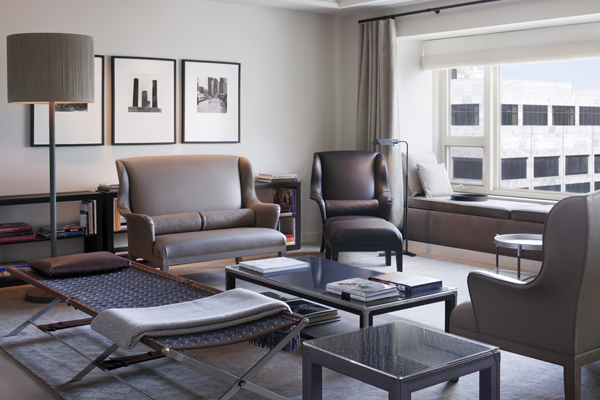 Park Hyatt Chicago will unveil redesigned suites after undergoing transformations to their interiors, completing a two -year, multi-million dollar hotel renovation. The suites will be exclusive to Park Hyatt Chicago, including the iconic Water Tower Suite and the launch of a designer suite in partnership with Bottega Veneta.
Known for their high-end leather goods, Bottega Veneta has created a suite inspired by the brand's timeless aesthetic. Lake Suite Bottega Veneta will be a reflection of the sophisticated and understated elegance the Park Hyatt brand is known for. Additionally, the opening of a new Water Tower Suite will pay homage to the arts and culture of Chicago. Through the use of high quality materials and chic designs, the new suites will reflect Park Hyatt Chicago and Park Hyatt brand's dedication to understated elegance and superior quality, making the hotel home to the most stylish suites in town. Rates for Lake Suite Bottega Veneta start at 4,500 USD and rates for the Water Tower Suite start at 6,000 USD.
Once completed, the renovation will have touched every aspect of the hotel from the guestrooms to lobby; meeting space; and lifestyle brand on the seventh floor: NoMI Kitchen, NoMI Lounge, NoMI Garden, and new NoMI Spa.
Offering stunning views of Lake Michigan and measuring 1,400 square feet, the new Bottega Veneta Lake Suite's design is sleek and elegantly minimalist. The bedroom, open living room, kitchenette, and two bathrooms are spacious and uncluttered, maximizing the light and dramatic views of Chicago's expansive lakefront.
The furniture, most of it drawn from Bottega Veneta's furniture collection, includes chairs, a sofa bed, and a brisée from the META line, produced in collaboration with Poltrona Frau. Also from the collection are folding "camp" stools and a bed, as well as chests of drawers, end tables, and a dining room table and chairs.
The palette is warm and light, composed of signature Bottega Veneta neutrals like pergamena, and noce; and uniform, with graphic accents in ebony and black. The plush suite's floors are draped with soft, New Zealand wool carpets while suede, leather, Ashahi bookcloth, and mohair velvet are used as wall coverings, upholstery and window treatments. Leather pillows, hand-carved Venetian glassware, and cashmere throws, objects from Bottega Veneta's home collection, provide lavish finishing details