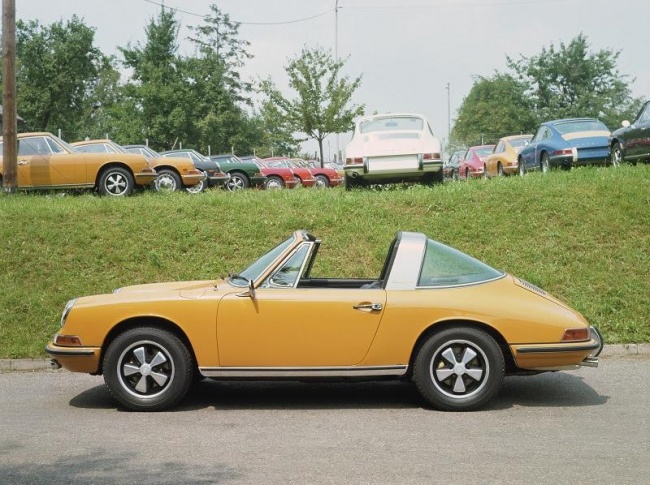 The North American International Auto Show next week will see the debut of the retro-inspired Porsche 911 Targa. The 911 Targa, with its distinctive stainless steel roll bar, made its debut in late 1966 as the world's first ever safety cabriolet. The semiautomatic Sportomatic four-speed transmission joined the lineup in 1967. With the 911T of the same year, and the later E and S variants, Porsche became the first German manufacturer to comply with strict US exhaust emission control regulations.
Alongside the 911 Targa, the all-new Cayenne Platinum Edition and Cayenne Diesel Platinum Edition will also be on display for the first time at a motor show. The Cayenne Platinum Edition models are based on the Cayenne and Cayenne Diesel variants. The Platinum Editions offer many of the most-requested options as standard. Externally, the special status of these models is demonstrated by exterior detail accents in Platinum Silver Metallic, with an exclusive two-tone standard interior in Black/Luxor Beige.
The 3.6-liter V6 engine in the Cayenne Platinum Edition delivers 300 hp and 295 lb-ft of torque and sprints from zero to 60 mph in 7.4 seconds. The Porsche Cayenne Platinum Edition has a base MSRP price $63,300. The Cayenne Diesel Platinum Edition is powered by a 3.0-liter V6 turbo diesel engine with 240 hp and reaches 60 mph in 7.2 seconds.
Fresh from its World Premiere at the Los Angeles Auto Show, the Porsche Macan S and Macan Turbo will also be on display in Detroit.