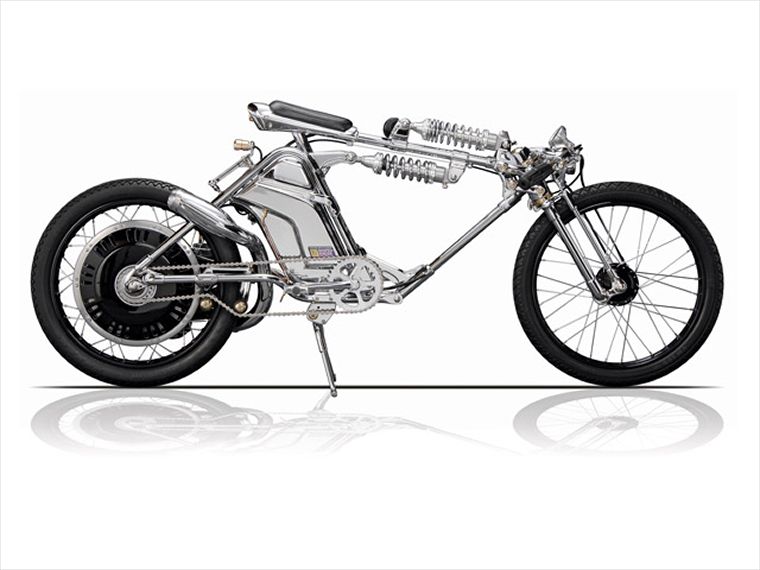 His work can be considered an art form. Seduced by the association between art and mechanics, the Japanese artist Chicara Nagata spent nearly 3 years into the completion of his first piece of art "CHICARA ONE", he finished in 2004 after 7500 hours of work.
The art-motorcycles made Chicara Nagata the World Champion of Custom Bike design. Paradoxically the motorcycles almost killed him in a terrible accident at the age of 16. Chicara spent 8 months at the hospital fighting for his life. Thanks to multiple blood transfusions and doctors' follow-ups, he was able to live.
In order to honor the machines that nearly took his life away, he describes his art as an expression of gratefulness to the people who donated their blood and worked to save his life… his way to give back to society. Chicara draws, crafts and assembles close to 500 components that he adds to a vintage engine, manufactured between 1939 and 1966.
In 2004, Chicara Nagata started a series of unique art-motorcycles he names CHICARA ART– one to four- which makes him rapidly win 6 consecutive awards at shows in Belgium, France, and Germany before garnering global recognition at the AMDChampionship (the most recognized custom bike award worldwide.) Chicara Nagata became World Champion of Custom Bike design when he took the first place for CHICARA ART ONE in 2006 and the second place the following year with CHICARA ART TWO, both in the freestyle class of the AMD.
The 3 motorcycles currently exhibited at Geneva's M.A.D. Gallery are:
CHICARA ART ONE- with a 1939 Harley Davidson engine, 1200cc- available at CHF 370'000 + VAT
CHICARA ART THREE- with a 1950 Meguro engine, 500cc- available at CHF 370'000 + VAT- Meguro being the pioneer
company in Japan in the motorcycle industry, that later merged with Kawazaki in 1963.
CHICARA ART FOUR- with a 1966 Honda Moped Motor, 50cc- available at CHF 78'000 + VAT