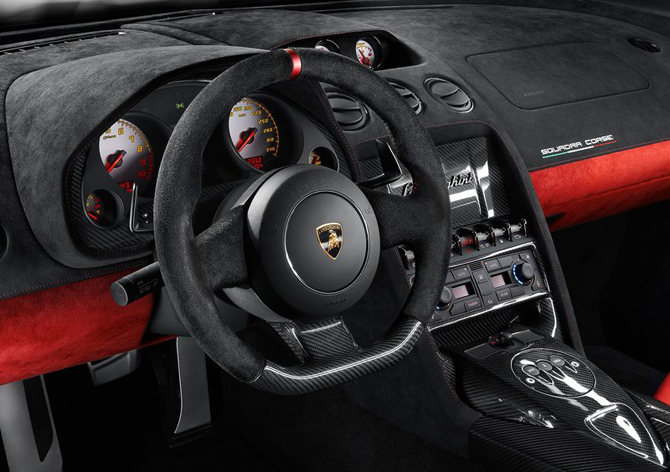 Lamborghini debuts its most extreme Gallardo, the 15th iteration in just 10 years and likely the last. Based on the Gallardo Super Trofeo, the Squadra Corse takes its name from the new department within Lamborghini that manages all Lamborghini racing activities.
The special edition Gallardo, limited to just 50 units worldwide and priced at $259,100, will debut at the Frankfurt Motor Show. The racing beauty will have a V10 engine that develops 570 HP (419 kW). The supercar accelerates from 0 -100 km/h in 3.4 seconds and hits a top speed of 320 km/h. With a decal strip in the colours of the Italian flag, the exterior updrades offers white, yellow, red or grey paintwork. The 15 cars slated for the US market will be painted in yellow.
The new Gallardo Squadra Corse is very close to the race cars. Both share the same V10 engine, which is used in the racing version with no modifications. Likewise, the Squadra Corse has the same rear wing for greater aerodynamic load – achieving, under the best aerodynamic conditions, three times the load of the Gallardo LP 560-4 – for increased dynamic stability during tight, highspeed driving. Another element taken directly from the racing version is the removable engine hood with quick-release system. Both the rear wing and the hood are made from carbon composite material, as are a host of other components on the Squadra Corse.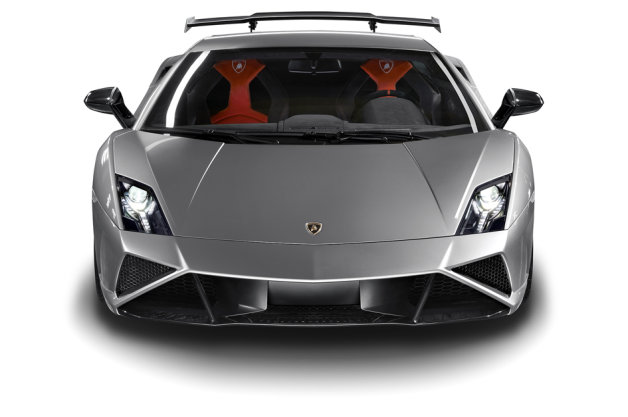 "The Lamborghini Blancpain Super Trofeo is the only single-brand racing series in the world that features all-wheel drive race cars. The Gallardo Squadra Corse is a highly concentrated driving machine offering a truly stunning driving experience with breathtaking cornering speeds and fast, immediate response. Its road manners are always precise, stable and completely safe," explained Lamborghini in a statement.
Extremely lightweight carbon fiber and Alcantara, the perfect combination of sporty minimalism, are the dominant materials inside the Squadra Corse. Alcantara graces the underside of the dashboard, the central panel of the seat cushion and the backrest.
"Esperienza" events by the Squadra Corse deparment provide the opportunity of a first test-drive of the supercar. The Lamborghini Academies, on both track and ice, provide driver training and the initial steps toward real-life racing. The Super Trofeo series offers the perfect first race experience for young and gentlemen drivers, with the Lamborghini GT3 for more seasoned racers wishing to compete with the Lamborghini marque worldwide.