Celebrity chef Raymond Blanc teams up with Eurostar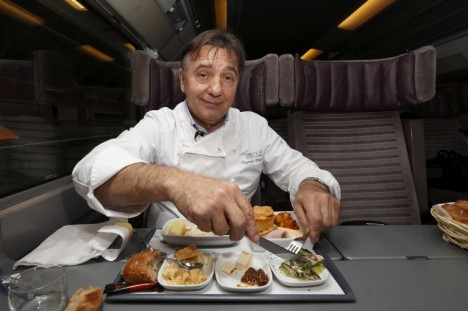 Celebrity self-taught chef Raymond Blanc, one of Britain's best-known cooks and a world renowned Michelin starred chef, has been appointed Culinary Director of Eurostar transport provider. Raymond Blanc has developed a menu based on seasonal ingredients from the three countries connected by Eurostar.
The new gastronomic partnership will see Raymond share his passion for promoting the very best in sustainable and seasonal food with Eurostar's Business Premier passengers. Raymond Blanc is collaborating closely with Eurostar's catering suppliers to help transform travellers' perceptions of on-board catering.
"Food on trains has got a bad reputation, so my role here is to bring the quality up," said 62-year-old Blanc. "I'm removing all the delicate food to concentrate on stronger food with a lot of personality, like cheese, sardines and apples," said the chef. "I want simple food," he added. "You have less chance of messing it up."
"I cannot compete with restaurants, of course I can't," Blanc said. "But I will compete with business class and first class airlines. I'm not afraid to be criticised by my peers, because I do it with my heart, with my intelligence and with my ethics."
Born in Besancon, France in 1949, Raymond Blanc is acknowledged as one of the finest chefs in the world. His exquisite cooking has received tributes from every national and international guide to culinary excellence.
At the age of 28, Raymond Blanc opened his first restaurant, 'Les Quat'Saisons' in Summertown, Oxford. After just one year, the restaurant was named Egon Ronay Restaurant of the Year and was awarded two Michelin Stars. In 1984, he opened Le Manoir aux Quat' Saisons in Great Milton, Oxford. Le Manoir is the only country house hotel in the UK, which has achieved two Michelin Stars consecutively for 27 years.
In 2012, Eurostar became the first transport provider to join the Sustainable Restaurant Association and it will be rated over the coming months on its on-board catering. This commitment to achieving culinary excellence has followed on from a raft of other innovations to its Business Premier class including; the introduction of guaranteed boarding, quiet coaches and a new on-board taxi booking service.
Eurostar is the high-speed train service linking St Pancras International, Ebbsfleet International, Ashford International, Paris, Brussels, Lille, Calais, Disneyland Resort Paris, Avignon and the French Alps. In 2012, Eurostar became the first transport provider to join the Sustainable Restaurant Association. In 2013, Eurostar will be rated by the Association for its work to source sustainable and locally produced food.