Fendi x Maria Pergay at Design Miami 2013.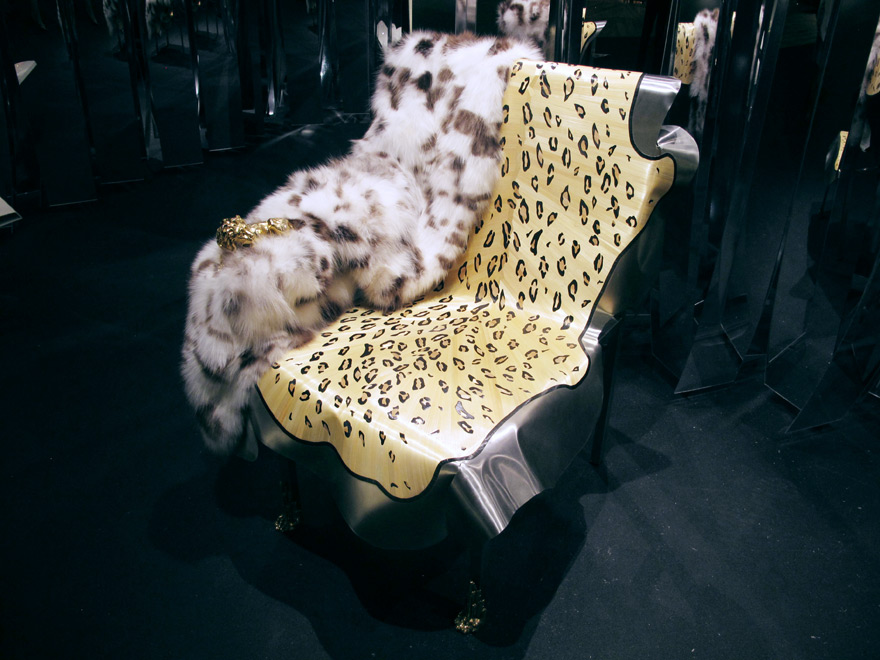 At Design Miami/ 2013, star designer Maria Pergay, a distinguished representative of the Arts Décoratifs, and Italian fashion house of Fendi presented a string of limited-edition art pieces, blending the artist's vision and Fendi's iconic values. The French artist have once again teamed up with the Italian house to unveil limited-edition furnishings called Metamorphosis. For Fendi, this is the 5th artistic collaboration for Design Miami, an initiative supporting contemporary creativity through private commissions.
Metamorphosis illustrates the bond between leather and fur workmanship, Fendi materials, and Maria Pergay's highly-sought stainless steel creations.
"What I imagined for Miami, for Fendi is first of all an interplay of reflections, a real forest of lights and rays. The visitor is unintetionally losing his bearings in a labyrinth of strips, and finds itself facing the materials and entering a discussion with the pieces "
The combination of amaranth and ebony woods, stainless steel, eggshell and galuchat, juxtapose elements in a way that only Pergay can execute: a sense of rebellion imbued with the tradition of superior craftsmanship. Tones and
shapes collide, bringing together warmth and cold, abstraction and linearity.
The Cabinet Pétales, which resembles a corolla of flowers, seems to burst out of itself, as if being released from a cage. Created with polychrome stainless steel, precious woods, and galuchat leather, the cabinet is representative of Pergay's own radical approach to the design of furniture: at times nearly un-contained, yet composed with a fiery elegance.