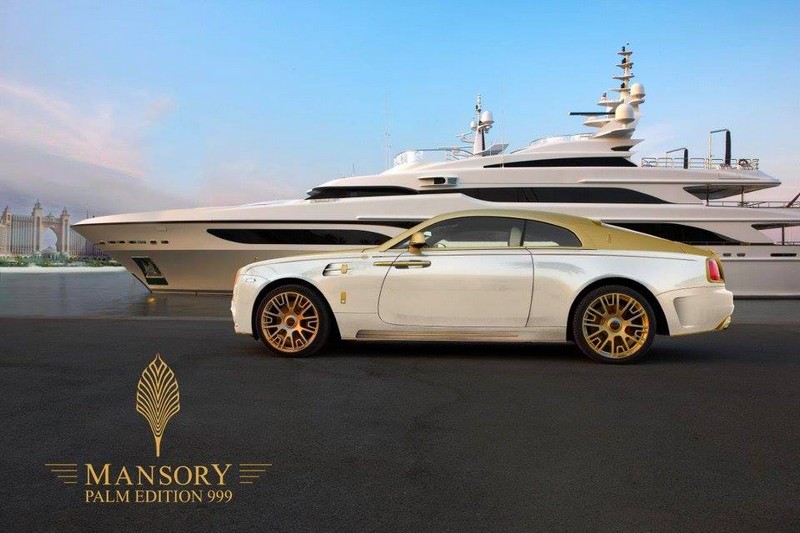 With a keen sense of aesthetics and abundant experience in the processing of Rolls-Royce models, the specialists at German customization company Mansory have created a new piece of art for the road worthing its weight in gold. The 'standard' Rolls-Royce Wraith in Mansory's hands redefines the boundaries of automotive opulence.
As a nod to the splendour of 999 pure gold, Mansory gave its Rolls-Royce Wraith upgrade the name 'Palm Edition 999'. But the number 9 can also be found in the maximum number of Mansory-Wraiths available worldwide – by limiting the series to just nine custom-made unique pieces, the Palm Edition 999 gains even further exclusivity. The new aerodynamically overhauled exterior boasts a two-tone white and gold paint finish while the gold theme continues in the interior. The bodywork package is crafted entirely from carbon, but the changes are much more than cosmetic. The Palm Edition 999 can accelerate from 0 to 100 km/h within a mere 4.4 seconds while the maximum speed has been increased from 250 to 300 km/h. This power is transferred onto the road by striking gold-coloured alloy wheels with a diameter of 22 inches. These ultra-high-performance wheels are encased with Vredestein tyres with the dimensions 265/35.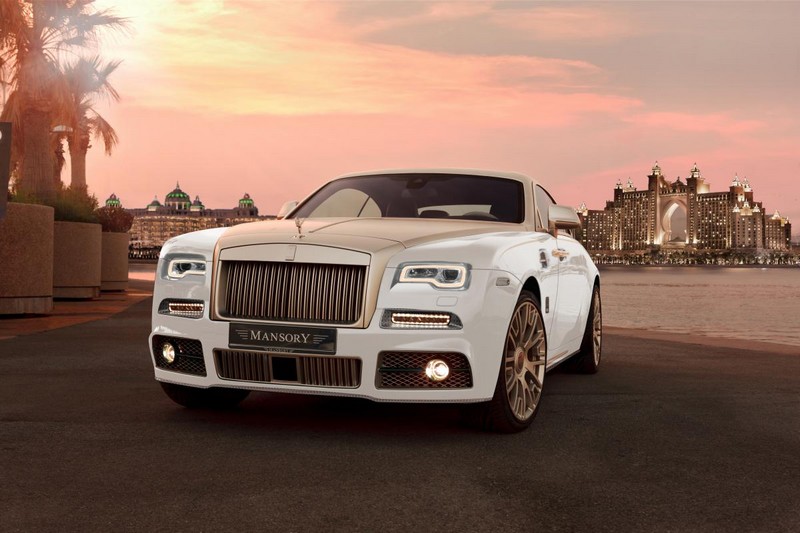 From the front spoiler with separately integrated LED and daytime running lights, front fender, side skirts, through to the
reworked rear of the vehicle with a new apron that stretches to the rear and roof spoiler – this luxury British car has had a
complete makeover. But true luxury is found in the details: In the Palm Edition 999, the original badges have been replaced with logos and plaques that have been artfully finished with 999 pure gold. Upon request, MANSORY can gold plate all parts with a metallic surface – from the door handles to the trim and sill guards, through to the radiator grille and the Sprit of Ecstasy enthroned above.
"In the interior as well, the design department has worked in conjunction with the Mansory upholstery team to outperform the luxury for which Rolls-Royce is famous," says the tuning experts from the Bavarian town of Brand.
The masterfully crafted leather furnishings take their colour cue from the exterior paintwork and the interior features
embroideries of the Palm logo.
"There are also occasional refinements throughout the cockpit made from pure gold to add yet more individual accents," added
Mansory.