Interbrand, a leading brand consultancy, released its Best Global Brands report for 2011. The report is based on a unique methodology that analyzes three key aspects that contribute to a brand's value: the financial performance of the branded products or services; the role of brand in the purchase decision process; the strength of the brand to continue to secure earnings for a company.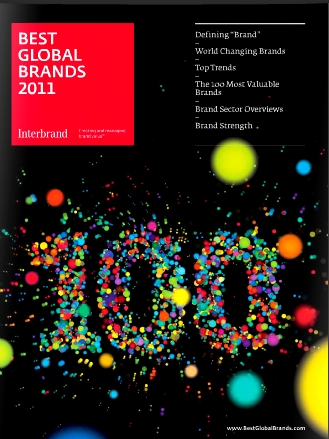 All luxury brands appearing in Interbrand's report were able to increase their respective brand values by striking a delicate balance in 2011: They each leveraged their iconic status and simultaneously engaged new consumers in unique and relevant experiences.
* Corporations such as Louis Vuitton (#18), Gucci (#39), Hermès (#66), Cartier (#70), Tiffany (#73), Armani (#93) and Burberry (#95) all saw their respective brand values increase this year – a tremendous business achievement considering the world's tumultuous economic conditions.
[adsenseyu1]
Each of these luxury brands put a renewed focus on quality, craftsmanship and an increased emphasis on digital brand strategy.
* Most notably, Burberry (#95) increased its brand value by 20%, making the British luxury retailer one of the top risers in this year's report. While luxury brands performed well across the board, Burberry bested them all by focusing on its core competencies in fashion, digital innovation and global expansion.
This year's Top 100 Best Global Brands have demonstrated that, despite an erratic economic landscape, they are constantly flexing, evolving and innovating – all in an effort to meet the new needs of today's consumer. "By refining digital strategies and strengthening social networks, today's most valuable brands are creating more relevant customer engagements. These brands have seized opportunities to host richer, more tailored experiences, which, in turn, help drive longer-term loyalty and value among consumers and partners alike," noted Jez Frampton, Interbrand's Global Chief Executive Officer.
Coca-Cola (#1) takes the lead in Interbrand's 2011 Best Global Brands report for the 12th consecutive year. Another brand leader is Apple (#8). With a brand value that increased a staggering 58 percent, Apple is this year's top riser and, for the first time, it sits amongst the top 10 brands listed in Interbrand's report.