The offending bag from last year's The Hangover II movie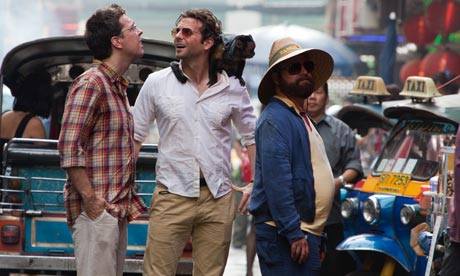 Louis Vuitton luxury house is asking for compensation over the use of the "Lewis Vuitton" bag in Warnes Bros' "The Hangover Part II" (2011, USA, directed by Todd Phillips), which grossed £367m and is the most successful R-rated comedy of all time at the global box office.
"Be careful, that is.. that is a Lewis Vuitton." Those two words raised Louis Vuitton fury. The guardian reports that Warner Bros representatives look to Fred Astaire and Ginger Rogers case to defend film's fake Vuitton brand.
Warner Bros representatives told a New York federal court that its use of a fake bag was justified by a 1989 US court decision in which Hollywood star Ginger Rogers was denied compensation over a film about two fictional Italian cabaret performers who recreated her routines with Fred Astaire for comedy effect.
Louis Vuitton claims that the movie created consumer confusion by depicting a counterfeit handbag branded a "Lewis Vuitton".
"The issue is the freedom of the author to incorporate references to real life – including references to trademarks and even to counterfeit goods – in creating the expressive work," Warners' lawyers said in a motion to dismiss. "The ownership of a trademark confers many rights but not the right to alter or veto such creative expression."