The economy maybe in tatters in much of the world but luxury retail experiences in China just keeps on growing.
On the occasion of Louis Vuitton's 20th anniversary in China, the French luxury label is inaugurating its first Louis Vuitton Maison in mainland China to the public at Plaza 66 this coming Saturday (July 21). Another Louis Vuitton Maison is expected to open in Beijing by the end of 2013.
Designed by architect Peter Marino, the much anticipated four-level Maison marks Louis Vuitton's 16th Maison worldwide, conceived as a travel destination in its own right. (Each Louis Vuitton Maison acts as an international celebration of the brand's style and elegance and brings together each all of its experience under one roof.)
On the occasion of the opening of its Maison in Shanghai, the company presents the "Louis Vuitton Express'' exhibition at the main entrance of the Plaza 66 until August 15. On July 19, the Louis Vuitton Express will come to a halt on the famous Bund bringing a spectacular show. It will be the second time Louis Vuitton presenting a fashion show outside Paris.
"Travel has always been the inspiration of Louis Vuitton. This season, when Marc Jacobs decided to show a real train arriving at the Louvre for the Autumn/Winter 2012-2013 fashion show, it truly paid tribute to the world of travel in a most elegant way,'' said chairman and CEO Yves Carcelle.
"Shanghai is one of the world's most exciting and dynamic cities, and with its groundbreaking new Maison, Louis Vuitton brings the energy of the local and international art scene together with our natural passion for beauty and excellence. By pushing the retail environment into a new territory, the Maison Louis Vuitton Shanghai creates new and truly unique customer experiences,'' Carcelle said.
The gallery-like spaces are dedicated to leather goods, ready-to-wear for women and men, luggage, watches and jewelry, shoes and belts and rare and exceptional products.
Christopher Zanardi-Landi, executive vice president of Louis Vuitton, described the new Maison as "the ultimate luxury experience in the world, like a voyage of discovery.''
The probably most exceptional part is "The Apartment'' on the fourth floor, which is the second in the world after the Louis Vuitton New Bond Street Maison in London. Accessible by invitation only, it is home to the main Haute Maroquinerie area, which literally means "high leather goods'' that offers the customers the opportunity to design their very bag from a set of pre-selected shapes, colors and leathers.
Another first time in China is a shoe and belt Made-to-Order area and a made-to-measure suits area for men on the second floor.
The new Maison incorporates art and travel, by showcasing exceptional works by Chinese and international artists at the forefront of the contemporary art scene.
Zanardi-Landi said it is the right time to open the Maison because "the sophistication of customers here has changed dramatically over the years.'' "Ten years ago, Chinese customers were not so sophisticated and very logo driven but that really changed dramatically and Chinese customers now are very knowledgeable about products and trends,'' he said.
Zanardi-Landi joined Louis Vuitton China in 2003 for which he became CEO in 2006 and president in 2007 until a month ago.
"Chinese have a viewpoint that everything outside is better, which is wrong. What we have tried to demonstrate is what we do in china is what we do in elsewhere. We started 20 years ago with a view that one day China would be probably the most important luxury market in the world. We have kept exactly the same standard in China as Vuitton in major luxury cities. Consistency attributed to our success here,'' Zanardi-Landi added.
The French label opened its first store on the Chinese mainland in 1992 in Beijing's Peninsula Hotel. It opened its first store in Shanghai in 1995. The company now operates 41 stores in the mainland and most of them are located in provincial capitals. The company will open stores in two new provincial cities this year: Hefei and Shijiazhuang.
The first Louis Vuitton watch and jewelry store will be opened in Park Hyatt, Beijing by the end of this year.
"Chinese purchasing Louis Vuitton is still super strong and Chinese clientele is the first clientele of the brand,'' Zanardi-Landi revealed. "The growth of people buying outside China is very strong, and of course price is a big issue here. It's a shame to us as we've invested hugely in China and we like to see Chinese purchase at their home. We hope in the future things will change in terms of import duty and valued-added tax.''
Zanardi-Landi said the company strategy for China is not a game of expansion. "It's more of a question of differentiation within cities, so probably about more smaller stores offering different experiences,'' he said. "We are not going to roll out a carpet of 20 or 30 more stores in China. We are in the best cities we will continue upgrading and differentiating the experiences.''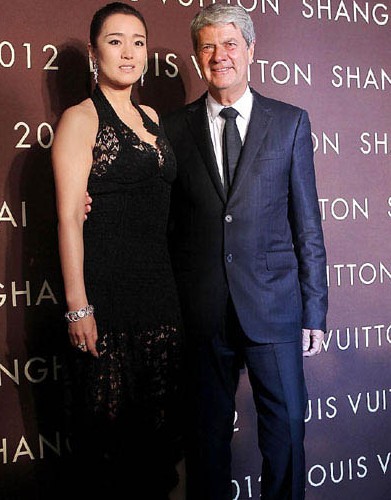 To keep its leading position in Chinese luxury market, Zanardi-Landi said they will try to bring new surprises to Chinese customers. "Louis Vuitton is also probably one of the very small number brands who has very extensive after-sales network here.''
"We are a luxury brand but we believe a certain sense of democracy. Trying to be snobbish is not our thing,'' he said. "We invite everybody to our store and hope everybody can find something.''
The luxury brand invited the American photographer and film maker Todd Selby to board the Louis Vuitton Express for a trip from Paris to Shanghai, depicting the winding journey along the way. Selby documented the extraordinary voyage via his signature illustrations, photos and films all diarised on the LV micro-site (www.louisvuittonexpress.com)
The cross-continent journey will reach their final destination in Shanghai tomorrow for the spectacular fashion show. Artist director Marc Jacobs will also appear tomorrow night.
We thank to our contributor Yang Di for this excelent material.