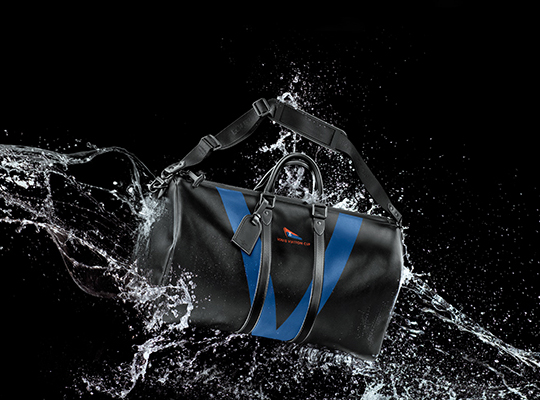 Keepall, on the famous Louis Vuitton travel bag, has a new interpretation that marks the thirtieth anniversary of the Louis Vuitton Cup, the yachting competition connected with the America's Cup. The Louis Vuitton Cup is used as the selection series to select the team to sail as the challenger in the America's Cup.
Invented in 1930, Keepall name derives from "Keep all". The durable, roomy and light holdall was the fore-runner of the modern bags. It was a favorite travel item for Marlène Dietrich, Jackie Kennedy, Catherine Deneuve and Angelina Jolie.
The new 2012 black canvas Waterproof Keepall 55 Bandouliere incorporates a number of innovative technologies being crafted using a high-frequency ultrasonic welding process, no stitches or leather. The bag is available in the signature colors of the Louis Vuitton Cup.
To be contested in 2013 on San Francisco Bay, the Louis Vuitton Cup will see challengers from around the globe battle each other for an opportunity to race in the subsequent America's Cup Finals.
Significantly, 2013 marks the 30th anniversary of the first Louis Vuitton Cup which took place in Newport, Rhode Island in 1983. It was an auspicious debut, as the winner of the first Louis Vuitton Cup, Australia II, went on to become the first challenger in the 132-history (at that time) of the America's Cup to beat the defender.
Louis Vuitton will also serve as Official Timekeeper for the 34th America's Cup.
"We are thrilled to continue our 30-year partnership with the America's Cup," said Yves Carcelle, Chairman and CEO of Louis Vuitton Malletier. "We believe that the 34th edition will be the best America's Cup yet."
DATES:
Louis Vuitton Cup: 04 July – 1 September 2013
America's Cup Match (Finals): 7-22 September 2013