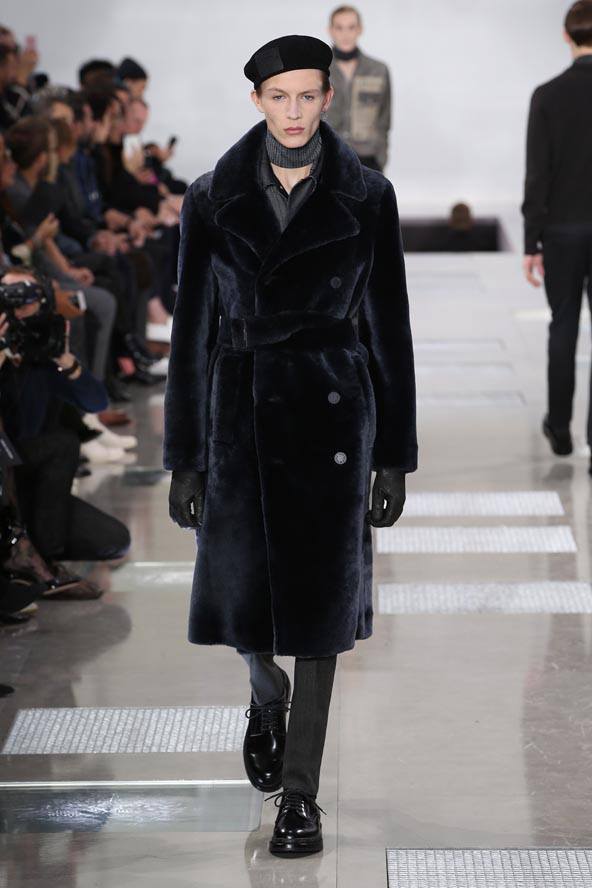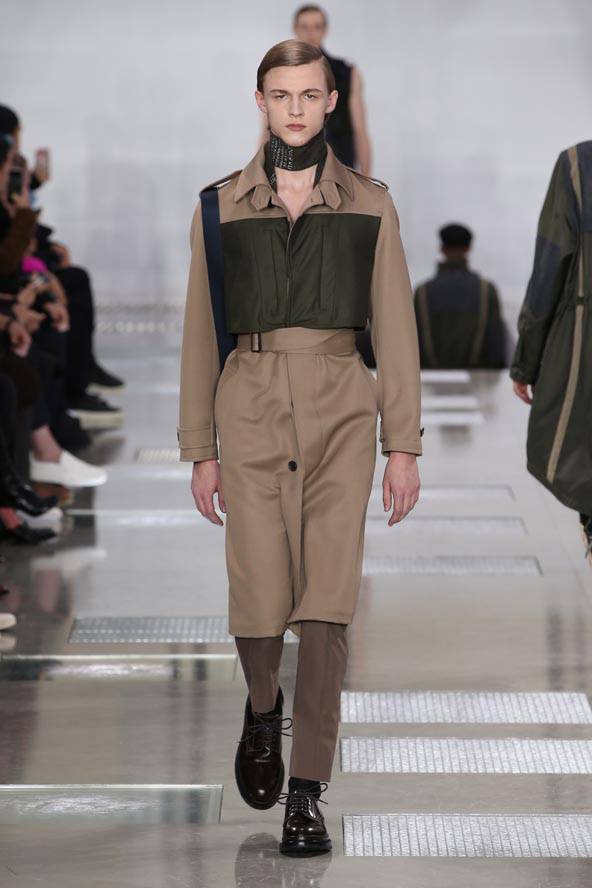 ---
This article titled "Louis Vuitton celebrates stoic Paris in menswear show" was written by Morwenna Ferrier, for theguardian.com on Thursday 21st January 2016 19.33 UTC
Given recent events in Paris, it would have been odd to get to this stage of the five-day menswear event with no designer paying tribute to the victims of the November 2015 attacks. So it was with due respect that Louis Vuitton's British creative director, Kim Jones, shifted the spirit of his autumn/winter 2016 collection, already a visual tribute to a century of Paris fashion, to reflect the current mood.
Talking backstage, Jones explained that his interest was "in modern Paris – I wanted to give it fresh air. Then that awful thing happened and, well, we wanted to celebrate it even more".
The stoic atmosphere, which has been palpable in the city these last few days, was matched in the collection which moved neatly from Art Deco Paris, riffing on dandyism which, of course, has its roots in Paris, through to modern Parisian elegance.
The Parisian motifs were subtle to start. Silk trench coats belted with pelts were paired with utilitarian narrow-fit trousers, a sharp move away from the wide-legged casualwear which has so far dominated the catwalks at Walter Van Beirendork and Carven.
Mid-century Paris was celebrated by way of patterned shearling bomber jackets, before things jumped a decade forward into the 60s with zip-up polonecks and cashmere jackets fused with silk. Jones made a point of playing with shine and matte, sandwiching utilitarian pieces with graphic prints.
The trench reappeared, this time bound with a mismatched bustier around its chest, alongside navy berets. As Jones explained: "We thought we can't do that but then again, this is Paris."
Luggage is one of the label's most iconic (and best-selling) products and ran throughout the show. Everything from toolkit bags to vanity cases was covered in Vuitton's silkscreen. The trademark monogram was a recurrent theme, on scarves, jackets and coats.
An unexpected addition, a cracked pattern based on an indigo-painting technique called Roketsu, broke the gentle fluidity of the collection, and came in three forms: on bleached denim, leather jackets and a silk pyjama-style two-piece which moved beautifully.
The show was delivered with pace and zip. Overhead, a sheer awning billowed dramatically, Seven Year Itch-style, above streams of air.
Motif-stamped silk scarves worn as chokers were a winning addendum and, alongside single earrings at the start of the show, referenced fashion's ever-experimental treatment of gender without making it the core message.
Louis Vuitton remains one of the most valuable luxury-goods brand in the world. (It is thought the turnover as of 2015 is roughly £7bn.)
In his five-year tenure at Vuitton, British designer Kim Jones has been widely credited with flipping the historically sober brand on its head, marrying Vuitton's classic heritage look with modern zip. He described this collection as having the "lightness of Paris, being elegant and chic but also sporty".
Jones explained that despite feeling like an outsider in Paris, it's London that is usually credited with tapping into youth culture. "But you see it in Paris too, and right now, new labels like Vetements are making it feel exciting for young people, giving it a different perspective."
guardian.co.uk © Guardian News & Media Limited 2010
Published via the Guardian News Feed plugin for WordPress.