What a Ferrari would look like in the year 2040…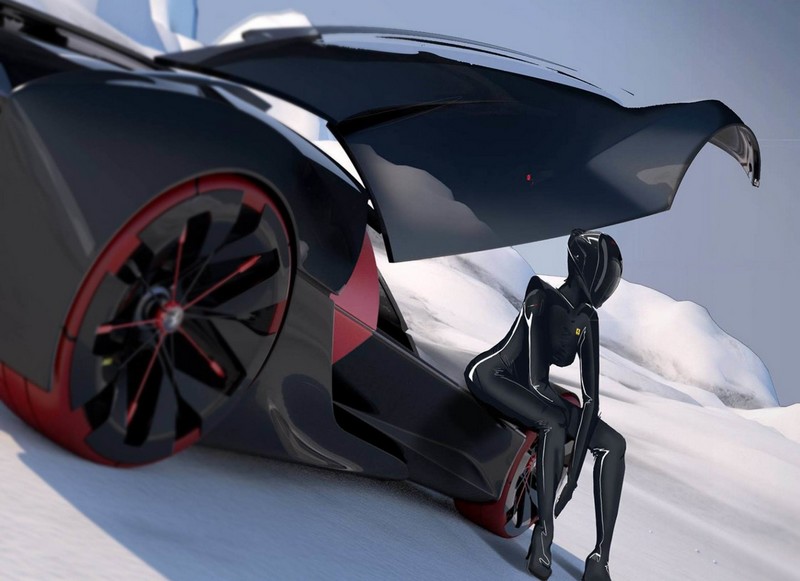 Ferrari announced the winners of its Top Design School Challenge. The automotive design contest will provide inspiration for Ferraris of the future. The Manifesto, the FL and the de Esfera concepts are the three winning models in the 2016 Top Design School Challenge, in which four prestige institutes submitted three designs each of the Ferraris of 2040. The "Gran Premio Assoluto" overall prize has been awarded to the Manifesto, a design by six students from the ISD-Rubika at Valenciennes, France: Frenchmen Michael Barthly, Grimaud Gervex and Jean Baptiste Epinat, and Belgians Michael Kalyvianakis, Stanislas Oleksiak, and William Stock.
"The jury was won over by the completeness of the Manifesto car design as well as the students' ability to create a coherent overall vision of the car spanning its exterior, cabin and running gear. The spectacular door opening mechanism also highlights the evolution of the interior functions, using future-forward technologies. The exterior is instantly recognisable despite the fact that it incorporates certain orthodox features," explained the jury panel.
The jury also wanted to make a special mention of the FL by Roman Egorov, the only design that focused solely on the cabin. They commented that the Russian student from the Hochschule Pforzheim in Germany very successfully applied a highly unconventional design language to the car interior, integrating and rethinking the human-machine interface in the process. He also partnered luxury, noble materials rather opting than for the typical carbon-leather combination of today, demonstrating his ability to look well beyond accepted convention.
Last but not least, the "Premio Speciale", decided by an online ballot (decided online, on Facebook), went to the de Esfera, the work of three students from Hongik University in Seoul, Korea: Chae wook Lee, Ha kyoung Yeom and Woo jin Jung.
The jury comprised Ferrari exponents in the broadest sense of the term from designers to engineers, drivers and even famous collectors: Nicola Boari, Franco Cimatti, Aldo Colonnetti, Rodolfo Gaffino Rossi, Jay Kay, Flavio Manzoni, Nick Mason, Andrea Militello, Paolo Pininfarina and Sebastian Vettel.