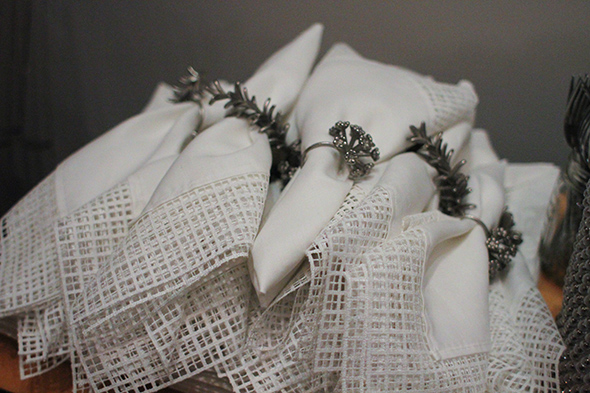 Art always enhances the quality of people's lives. With this motto in mind, Neiman Marcus launched an exclusive Lela Rose Tabletop capsule collection, marking the fashion designer's first collaboration in the home category. Before launching the collection Lela Rose host a benefit dinner for world-renowned Spanish chef Ferran Adrià at her TriBeCa loft NY.
Rose's first foray into the world of home accessories includes a special tabletop collection that includes a white lace and linen napkin and placemat set as well as a set of four assorted dessert plates. Each dessert plate in the set features a unique design inspired by master chef Ferran Adrià's complex approach to food. The white grid-lace linen placements and napkins, an assorted set of four dessert plates, and napkin rings created using an innovative 3D printing technique all will be available exclusively at Neiman Marcus.
"Entertaining is woven into my lifestyle, so creating a tabletop collection is a natural extension," said Lela Rose, designer. "I am inspired by Adrià's artistic approach to food; each piece I designed reflects the energy and creativity in his masterpieces. This collaboration allowed me to apply my design philosophy of mixing color and texture to tabletop for the first time."
The occasion was the New York museum's opening of Ferran Adrià: Notes on Creativity. The exhibit, which will be on display until the end of February, showcases the famed gastronomist's creative process, in particular sketches he used to visualize dishes at El Bulli. The three-Michelin-star restaurant in Roses, Spain, topped Restaurant Magazine's list of the world's best restaurants a record five times before closing in 2011 to reemerge as a center for culinary creativity.
"I was lucky enough to eat at El Bulli before its doors closed," says Rose. "It was such a foodie mecca; dining there was dream come true. I loved seeing Chef Adrià and his team at work—true genius."
For the five-course dinner, Rose relied on an all-star roster of chefs: Dan Barber, Mario Batali, Daniel Boulud, Thomas Keller, and Dominique Ansel (yes, he made Cronuts). Each contributed one course, plus an amuse-bouche for the cocktail hour, leaving her free to play host to the 60 guests from the art, fashion, and culinary worlds.
"It's completely nerve-racking, especially to have chefs on that level cooking in your kitchen and seeing what's in your fridge! But that's why so much planning went into it. I wanted every guest to feel like they were part of something really special and unique—the first rule of being a great hostess."
Rose drew inspiration from Adrià's work for every element of the party, from the handcrafted invitations and cocktails frozen with liquid nitrogen to the woodland tablescape. "I wanted the table to feel like a magical adventure. Everywhere you look there's a little surprise peeking out, and I incorporated elements Adrià enjoys using, like fennel flowers, rosemary, and lavender."