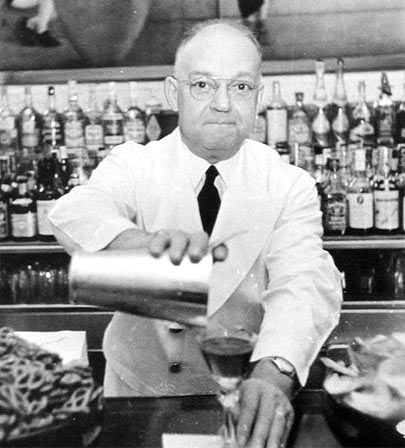 Famed bartender Fernand Petiot of the St. Regis hotel perfected his recipe for the beloved Bloody Mary, St. Regis' signature cocktail, at the King Cole bar in 1934. The St. Regis Hotel claims to have invented the tomato-vodka cocktail, called "the world's most complex cocktail". Deemed too racy a name for the hotel's clientele, it was rechristened the Red Snapper. While the latter moniker may not have stood the test of time, Fernand's spicy concoction certainly has.
The popular cocktail is containing vodka, tomato juice, and usually other spices such as Worcestershire sauce, Tabasco sauce, piri piri sauce, horseradish, celery, olives, salt, black pepper, cayenne pepper, lemon juice, and celery salt.
In celebration of the cocktail's 80th anniversary, The St. Regis Hotel is throwing parties around the world. The luxury hotel also launched a book and a 25oz bottle of St. Regis Bloody Mary cocktail mix, produced with Arrowhead Farms.
The drink is traditionally served over ice in a tall glass, such as a highball, flared pint or hurricane glass. The two critical ingredients, vodka and tomato juice, are relatively simple; however, the drink almost never consists of these two ingredients alone. Among the more common additions to the juice base are salt (either mixed in or as a salted rim), clam juice or olive brine, cracked pepper, brown sugar or molasses, bitters, horseradish, hot sauce (such as Tabasco), citrus juices (especially lemon or lime), and Worstershire sauce. Some or all of these ingredients can come pre-mixed with the tomato juice as a single "Bloody Mary mix" to which the vodka is added, or the drink may be hand-constructed by the bartender from raw ingredients according to the patron's preference. A common garnish is a celery stalk when served in a tall glass; other common garnishes include olives, lemon wedges and shrimp (as the taste of the drink is often reminiscent of shrimp cocktail sauce).
Today, the Bloody Mary remains the signature cocktail of the St. Regis brand, with each hotel crafting its own interpretation of the libation.