Brazil backs lingerie-clad Gisele Bundchen ad
Brazil's National Advertising Council denied a request Thursday to ban a television ad featuring lingerie-clad supermodel Gisele Bundchen after a government agency called it sexist.
"The stereotypes in this ad campaign are common in society, easily identifiable and do not denigrate women," the council's members said.
Brazil's Ministry for Women submitted a request in September to suspend the ad, saying it reinforces the stereotype of women as sex objects.
In the commercial for the Brazilian intimates brand Hope, Brazilian-born Bundchen is clad in panties, a bra and high heels, in an effort to distract her husband when she delivers bad news — about damaging the car, exceeding her credit limit and her mother coming to live with them.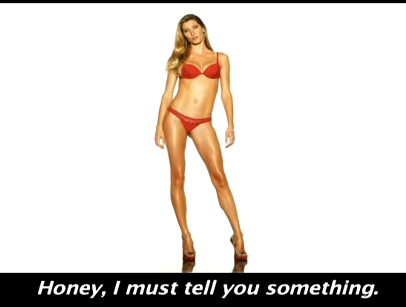 Some men had called for the ad to be put down because it took them for "idiots."
The TV ads send a message "that sensuality can melt any man" and "encourages Brazilian women to use their charms… to minimize the reactions of their husbands," the Ministry for Women had said.
[adsenseyu1]
More:  lifestyle yahoo