Know Your Diamond: MidEast Watch & Jewellery Show in Sharjah, the region's most popular jewellery fair, focused on gold and diamond opportunities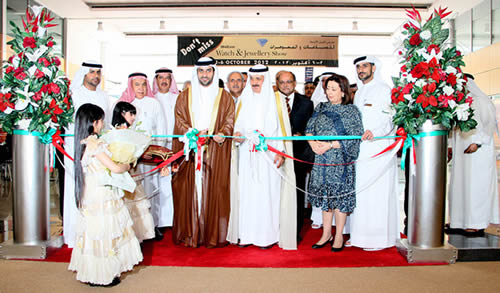 The 32nd MidEast Watch & Jewellery Show, the region's most popular jewellery fair, got under way on March 27 at Expo Centre in Sharjah.
For its spring edition, the five-day show is hosting more than 450 master jewellers from around the world, attracting importers, retailers and private collectors from across the Middle East region.
For the 2012 edition, the Sharjah show is displaying extensive collections of diamond and gold jewellery, pearls, silver jewellery, gems, precious stones, loose pearls, pearl sets, crystals, watches, timepieces and clocks from a number of countries around the world, reports tradearabia.
"Gold prices have fallen considerably since the end of last summer and could fall even further in the weeks ahead. Pullbacks in prices are always a golden opportunity to buy and this should not be missed by both investors and consumers to spruce up their portfolios and collections," said Ahmed Mohammed Al Midfa, – director-general of Expo Centre Sharjah.
Diamond sales are also soaring in the Middle East region. The rising demand is being fuelled by increased consumer spending on diamond jewellery in Middle East, China and India. Globally, the demand for rough diamonds is expected to grow at an average rate of 6.6 per cent to almost $23 billion by 2020, according to business consultancy Bain & Co.
In an attempt to demystify diamonds and bring it closer to a wider target audience, the Expo Centre in Sharjah is hosting a first-of- its-kind seminar during the show.
The IGI Seminar Series sessions will be held in association with International Gemological Institute (IGI), the world's largest independent gem certification institute.

http://www.tradearabia.com/news/RET_214897.html