"Fashion Rules Restyled" takes a nostalgic look back at recent decades of dress through the wardrobes of three royal women: Her Majesty The Queen, Princess Margaret and Diana, Princess of Wales.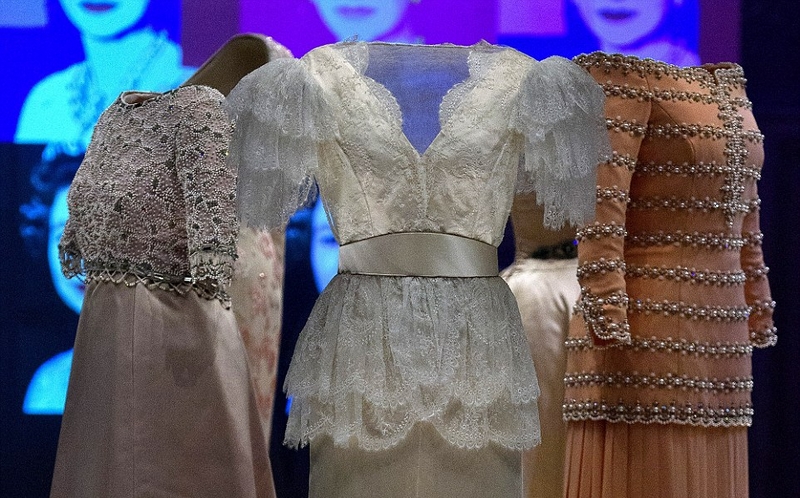 ---
This article titled "Kaftans, round sunglasses and Dior: how the Royals won fashion" was written by Lauren Cochrane, for theguardian.com on Wednesday 10th February 2016 15.05 UTC
The Queen's upcoming 90th birthday will no doubt prompt retrospectives heavy on pastels and handbags from the style press. But her younger sister Margaret threatens to steal her thunder. A new exhibition at Kensington Palace from Thursday, titled Fashion Rules Restyled, displays dresses from the wardrobe of the Queen, Diana Princess of Wales and Princess Margaret. It's the latter, who died in 2002, that emerges as the strongest fashion reference – with a wardrobe of nipped-in 50s dresses, scarves, embroidered bolero jackets and impressive accessories.
The accessories cabinet seals the deal. It features an impressive collection of sunglasses that she wore to the races and on holiday in Mustique. Everyone in the fashion industry – from Anna Wintour to Kanye West – knows a penchant for sunglasses spells cool. Margaret was a much-watched style icon of her time. As a 1953 quote from Picture Post on one of the display cabinets said: "What she wears is news."
That could be said of the Duchess of Cambridge now, but – as those sunglasses suggest – this exhibition shows that Margaret's contemporary fashion position was closer to that of someone like Kate Moss. By royal standards, she was the rebel. "Wearing sunglasses frequently lent a certain edge to her look," said curator Deirdre Murphy. "The press in the 50s were always looking at her."
A satin Norman Hartnell dress with embroidered bodice displayed here was worn for just one scandalous moment – for a film premiere in 1951 where Margaret was snapped smoking a cigarette.
If the unwritten rule book says that royals should wear British designers, Margaret was openly a big fan of Christian Dior, the contemporary king of Parisian couture. An ivory chiffon 1952 Dior dress is displayed here, worn to Ascot. If this is all ballast to make Margaret a style icon, it's the jetset moment in the 70s in Mustique that makes it bona fide for fashion insiders. Since her wardrobe in this later era largely consisted of cocktail dresses and swimwear, it's distinctly absent here.
Instead, this exhibition is a reworking of the popular Fashion Rules display first shown in 2014. Eighteen couture gowns by Norman Hartnell, Hardy Amies and Christian Dior, designer sketches and magazine covers ran over four rooms. It looks at the wardrobe of the three royal women over their respective eras – the 50s for Margaret, the 80s and 90s for Diana, and the last 60-odd years for the queen.
The concept attempts to explain how they negotiate both royal codes of dressing and the ones that everyone has to heed to, in order to stay vaguely in fashion at any given moment. As Murphy explained, "it's a combination of a concept of royalness, and wanting to reflect their different eras." She pointed to green column dress by Catherine Walker, a designer who "helped Diana develop her sophisticated style" that went with the 1990s aesthetic while sticking with the royal protocol of dressing to make an impact at public events.
Away from Margaret's fashion flair, there is a one reassuring thread of consistency in royal dress: the tradition of literal dressing goes beyond the Duchess of Cambridge's Wimbledon whites. There is a sketch of a dress for the Queen's visit to Sweden in 1983, in the yellow and blue of the Swedish flag, and a far-from-subtle taffeta tartan dress that Diana wore to Scotland in 1990. As the plaque next to the dress says, this custom dates back to King George IV wearing tartan to visit Edinburgh in 1822.
There is also evidence of the Queen's place in the pop culture zeitgeist. The eagle-eyed will notice the embellished Hardy Amies dress that she wore for the official photographs for the jubilee in 1977. Used on everything from stamps to china mugs, the distinctive oval sequins on the neckline can also be spotted on the cover of the Sex Pistols' infamous God Save the Queen LP. If Margaret was the fashion rebel, the Queen has the last laugh. It might have been done unwittingly but she contributed to punk.
• Fashion Rules Restyled is at Kensington Palace, London, from 11 February.
guardian.co.uk © Guardian News & Media Limited 2010
Published via the Guardian News Feed plugin for WordPress.