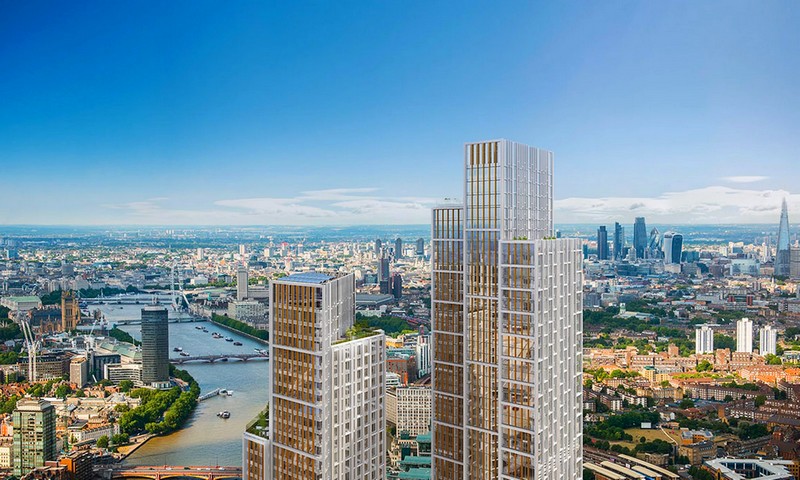 ---
This article titled "'It's an insult': Chinese property developers race to the top of London's skyline" was written by Oliver Wainwright, for theguardian.com on Thursday 22nd October 2015 09.59 UTC
The tallest residential tower in western Europe faces off against the biggest business park in the UK, while Thames-side towers offering "a brand new level of luxury" compete with the largest new entertainment resort that Britain has ever seen. In the battle of superlatives that is MIPIM, the international property fair that opened at London's Olympia exhibition centre on Wednesday, there is one recurring theme: the biggest projects are all the work of Chinese developers.
It is expected that £30bn worth of trade deals will be struck during the Chinese president Xi Jinping's UK visit this week, and much of it has been happening among sprawling city models and virtual fly-throughs of glistening new towers. A delegation of about 100 Chinese investors, developers and construction companies visited on Wednesday afternoon to meet council leaders and land agents, drifting between stands trumpeting the delights of "World Class Worcestershire" and "Northampton Alive", and posing for selfies in front of regional investment opportunities.
But the primary focus was on London, where some of China's largest property developers are well on the way to realising plans for buildings of an unprecedented scale of ambition and level of luxury.
Work has already begun on One Nine Elms, a pair of residential towers of 58 and 43 storeys on the south bank near Vauxhall by Dalian Wanda, China's biggest developer. Masterminded by Wang Jianlin, the country's richest man, who enjoys a personal fortune of $42.6bn (£27.6bn), the project's vision is suitably regal.
Designed by the US firm Kohn Pedersen Fox, it will be the first residential tower in the capital with its own five-star hotel, where occupants can enjoy room service in the comfort of their own homes, along with a cinema, gym and a luxury KTV karaoke room – a feature that makes a direct appeal to the Chinese market, where at least 30% of buyers are based.
"It's all about the fun factor," said a sales rep, handing over a cloth-bound brochure detailing Wanda's other assets, from Sunseeker superyachts to the vast AMC cinema chain. "Our Chinese clients expect a whole different level of service, so we're bringing everything they need together on one site." The agents for the development are so confident about the capital's booming property market that they are suggesting buyers will make a 23% profit if they sell when the keys to the new apartments are handed over in five years' time.
As suited property agents mingled in the booths, protesters gathered on the streets outside to voice their concerns about the deals being done behind closed doors. "It's sickening," said Jake Freeland of the Radical Housing Network, who was protesting with about 40 other campaigners, the crowd almost outnumbered by police, who had sealed off the pavement by main entrance in anticipation after disturbances last year.
"The superheated levels of international investment are responsible for the breakup of London's existing communities, and they're not giving nearly enough back," Freeland said. Of the 494 flats in One Nine Elms – which start at £1.3m – only 57 will be classed as "affordable" (shared ownership), falling far short of Lambeth council's target of 40%.
The Shanghai-based developer Greenland was also here to showcase its £1.2bn investment in London property, including plans for "classic south-west London luxury apartments" on the eight-acre Ram Brewery site in Wandsworth, and what could be the tallest apartment building in western Europe at Canary Wharf. Designed by HOK, Hertsmere House will rise to 67 storeys, if it receives planning permission, putting it at the same height as One Canada Square, the tallest building in Canary Wharf.
Its 869 apartments will be some of the most expensive in London, but critics have raised concerns over the building's deep, dark floor-plates and the fact that the plans don't meet London's Housing Design Guide standards. Only 80 flats will be for social rent, while 80 will be intermediate, again falling short of the borough's requirements.
"It's an insult to London," says Glenn McMahon of the campaign group Tower Hamlets Renters. "It's symbolic of the free-for-all in the capital that Boris Johnson has encouraged, seeing property as nothing more than an investment vehicle. Most of these places will sit empty, so it's doing nothing to help the housing crisis – where 20,000 people are on the waiting list for social housing in Tower Hamlets alone."
Last year, Chinese nationals were granted the most tier 1 investor visas by the UK, which fast-tracks the immigration process for those who want to invest more than £1m in the country, meaning Chinese investors overtook Russians for the first time. Property experts say the wave of Chinese investment in London's property market is driven by a combination of the recent slowdown of China's economy and a slackening of restrictions on the amount of money that can be invested overseas, combined with the prestige of having projects in London.
"The top Chinese developers are being driven by challenges in the domestic market and global branding needs," says Eric Zhao, a Chinese markets specialist at Savills. "Companies are beginning to diversify their huge capital outside of China after the restriction on overseas investment was lifted by the regulator. We have already seen the top Chinese firms make a statement in London and we are expecting more to follow."
And it's not just the luxury residential sector that is catching their attention. The Chinese business park developer ABP is finalising its £1.7bn plan for east London's Royal Albert Dock, where it intends to build 4.7m sq ft of office and retail space across the 35-acre site, aimed at Chinese companies looking to open UK headquarters. Touted as a third financial district after the City and Canary Wharf, and situated in London's only enterprise zone, the development hopes to lure companies here though a range of tax benefits, as well as its proximity to City airport and Crossrail.
"We're offering a unique product in the UK office market," says ABP's sales manager, Patrick Hurley. "We're not subject to the same restrictions as other parts of London here, so companies have the freedom to put their logos on the buildings and really make them their own."
Described by Boris Johnson as "a beacon for eastern investors looking west", the project has come under scrutiny after questions were raised about officials' cosy relations with ABP and the company's human rights record in China, where critics say it has been complicit in forced evictions to make way for its developments. ABP and Johnson have denied these claims.
"It's hopefully the first of a number of similar projects in the UK," says Hurley, describing the vast scheme as tiny compared to what the company normally builds back home. The smallest project ABP has completed in China consists of 400 buildings of 15m sq ft.
Echoing Xi Jinping and George Osborne's talk of a "golden decade" of relations between the two countries – ranging from importing Chinese high-speed trains and nuclear power plants to the UK, to exporting high-quality British pig semen to China in return – Xu Weiping, the flamboyant chairman of ABP, said: "As the Sino-UK relationship has entered the 'golden era', the bilateral exchanges have never been stronger." Nor has the physical impact on the urban fabric of London, as a consequence of this exchange, ever been so extreme.
guardian.co.uk © Guardian News & Media Limited 2010
Published via the Guardian News Feed plugin for WordPress.