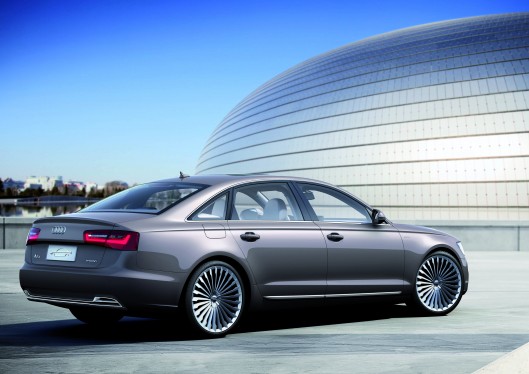 Audi made an important step towards future electric mobility in China. Audi presented its first luxury-class e-tron concept car – a technology study known as the Audi A6 L e-tron concept at Auto China 2012 in Beijing, showing what a locally produced New Energy Vehicle from Audi might look like. The plug-in hybrid has a powerful drive system that enables a driving range of 80 km (49.71 miles) on pure electric power, and it was specifically designed to fulfill Chinese needs.
The basis for this study is the new A6 L, the most successful premium automobile and Audi's bestselling model in China. Audi produces this business sedan at the Changchun plant in a joint venture with FAW.
The A6 L e-tron concept is precisely tailored to the requirements of Chinese customers. Plug-in hybrids that can travel long distances electrically – thereby enabling zero emissions driving in local areas – are ideal for use in rapidly growing megacities.
The technology study is a parallel hybrid. It brings together a 2.0 TFSI that outputs 155 kW (211 hp) and an electric motor with 70 kW (95 hp) peak power. The liquid-cooled lithium-ion battery is located in a collision-protected space at the rear of the vehicle. In electric mode, the Audi A6 L e-tron concept can travel up to 80 km (49.71 miles) at a constant speed of 60 km/h (37.28 mph). At any given moment, the hybrid control module chooses the best suited operating mode with the focus on driving range.
This technology platform can be operated with only the internal combustion engine, only the electric drive, or in hybrid mode. In addition, it can recover energy during deceleration, or it can boost output power for strong acceleration by combining the two drives. The Audi A6 L e-tron concept delivers sporty performance.
The body of the A6 L e-tron concept is identical to that of the Audi A6 L. It is lightweight, rigid and safe to a maximum degree, due to application of the ultra lightweight principle. Consisting of approximately ten percent aluminum, it weighs about 15 percent less than a comparable all-steel design. Aluminum components in the load-bearing structure and exterior skin, as well as the high-tech steels used in the occupant cell, make the body significantly lighter.