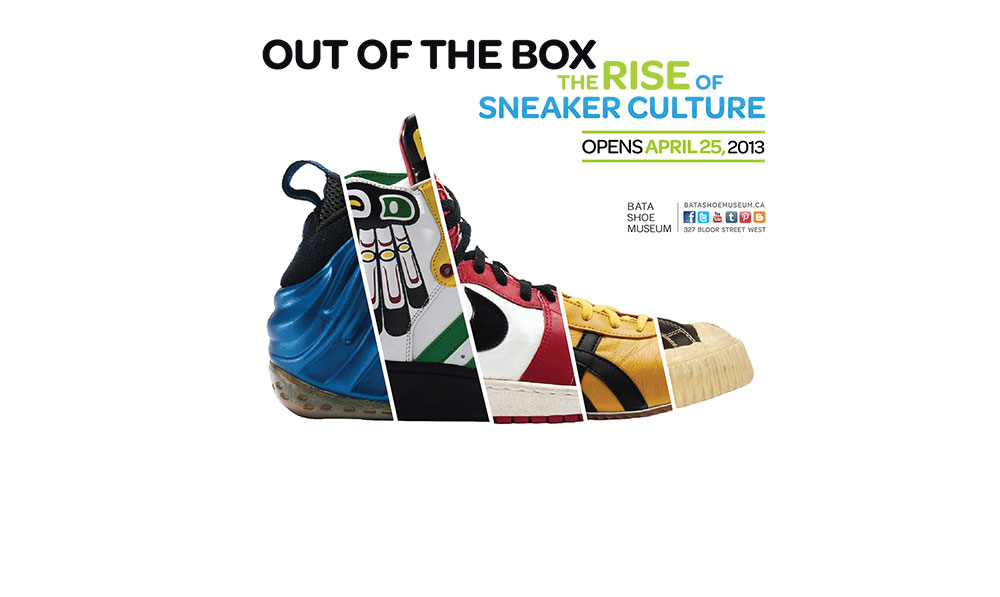 The Bata Shoe Museum (Toronto) announced the opening of the first north American exhibition that will explore the history of sneaker culture.
Opening to the public on April 25, 2013, "Out of the Box: The Rise of Sneaker Culture" exhibition  designed by famed industrial designer Karim Rashid features over 120 sneakers representing the past 150 years. Highlighting iconic sneakers, the visitors will see the historical beginnings of the sneaker from its emergence in the 19th century to becoming one of the most democratic forms of footwear in the 20th century to its current position as status symbol and icon of urban culture.
Rare sneakers from the archives of adidas, Nike, Reebok, PUMA, Converse and Northampton Museums and Art Gallery , and loans from rap legends Run DMC, sneaker guru Bobbito Garcia aka Kool Bob Love and Dee Wells from OSD will be featured. The exhibition will also include the latest designs from fashion designers, including Christian Louboutin , Pierre Hardy , Lanvin and Prada, as well as exceptional limited editions. A particular highlight is the handpicked sneakers and sketches by Nike designers Tinker Hatfield, Tobie Hatfield , Mark Smith and Eric Avar.
"Since the 19th century sneakers have been intimately linked to expressions of status as well as gender," said Elizabeth Semmelhack, Senior Curator at the Bata Shoe Museum and Curator of the Out of the Box exhibition. "I am particularly interested in how sneaker culture today is intertwined with shifts in idealized masculinity and how, what I am calling, the sneakerfication of men's dress is defining these changes."
In addition to the lenders already noted, the Bata Shoe Museum's sneaker holdings are complemented by loans from individuals and organizations, including PONY, Ewing Athletics, Mache, Phillip Nutt , Thad Jayaseelan , Sheraz Amin , Christian Louboutin , Chad Jones , Matte Babel and contemporary artists Tom Sachs and Shantell Martin .
Out of the Box: The Rise of Sneaker Culture will be on view until March 30, 2014.
Bata Shoe Museum celebrates the style and function of footwear in four impressive galleries. Hundreds of shoes (from a collection numbering over 10,000) are on exhibit in architect Raymond Moriyama's award-winning four-storey structure. Footwear on display ranges from Chinese bound foot shoes and ancient Egyptian sandals to chestnut-crushing clogs and glamourous platforms. Over 4,500 years of history and a collection of 20th-century celebrity shoes are reflected in the semi-permanent exhibition, All About Shoes.