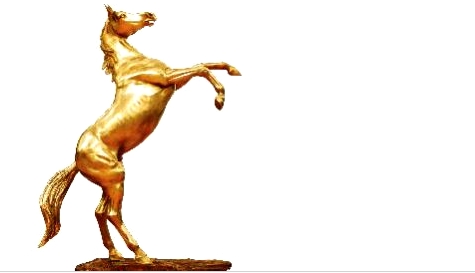 Fine Arts Wohnkultur (based in Frankfurt/Main (Germany) specialises in high-class, high-quality bronze sculptures produced through the traditional wax-casting process (cire perdue) and patinated in different bronze shades. Some sculptures are coated with lasting 24 carat hard gold or silver plating. By refinement with real gemstones like diamonds, rubies, emeralds and others many of Fine Arts pieces (tables, candleholder, sculptures, seating furniture) are embellished and revalued to precious luxury goods.
One such piece is the 'Grand Champion' – a tribute to all horses, who have won awards at tournaments around the world. Weighing approximately 430kg and standing tall at 280cm, this limited edition piece is cast in bronze with gold-silver colouring.
All Fine Arts Wohnkultur sculptures are masterpieces created by internationally renowned artists. They´re produced in limited editions and delivered with a certificate of authenticity. Weathered bronze usually darkens – this is natural and does not harm the piece.
The bronze sculptures of Fine Arts Wohnkultur are pretreated or hard gold- or silverplated. They don´t change colour, even outdoor. But avoid sharp objects, which cause damage on the metal surface, and use only soft flannel clothes for cleaning.