UK's Nemesis electric car land-speed record attempt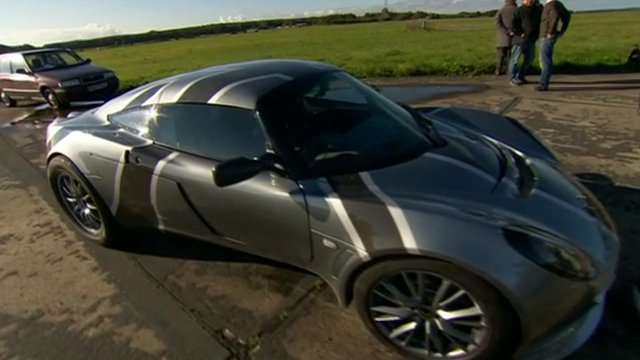 Electric cars are slow and boring? It is a myth Dale Vince, founder of Stroud-based Ecotricity, wants to challenge with Nemesis, a a modified Lotus Exige originally bought off eBay. Nemesis breaks the UK land-speed record for electric vehicles. The battery-powered car clocked an average speed of 148mph (239km/h).The last record of 137mph (220km/h) was held by Don Wales from Surrey.
Nemesis electric vehicle is concieved by a team of British motorsport engineers from Norfolk to run on green electricity generated by windmills. During speed tests last year the road-legal car did 0-100mph in 8.5 seconds.  The manufacturer was confident that the car is capable of topping 200mph, but "real world" conditions such as aerodynamic lift would impact on that, the teams told bbc before the attempt that took place at Elvington airfield near York.
During land-speed record attempt the car is driven by Nick Ponting from Gloucester, that have experienced a range of racing cars from Formula BMWs to Formula Fords.
"It was brilliant. The car felt really good," said Ponting.
"It was quite straightforward. We're putting a bit of juice back in the batteries and we're going to go again," commented Dale Vince from Ecotricity.
"The driver says it could have been faster. We think we'll top 150mph before we leave here today. We built the Nemesis to smash the stereotype of electric cars as something Noddy would drive – slow, boring, not cool."
In 2011, a pothole intervened in the establishment of the attempt to break the same record by the Bluebird Electric vehicle.