RE-ENGINEERED FOR REAR-WHEEL DRIVE PERFORMANCE.
Huracán LP 580-2 unveiled for the first time ahead of the 2015 LA Auto Show by President and CEO Stephan Winkelmann.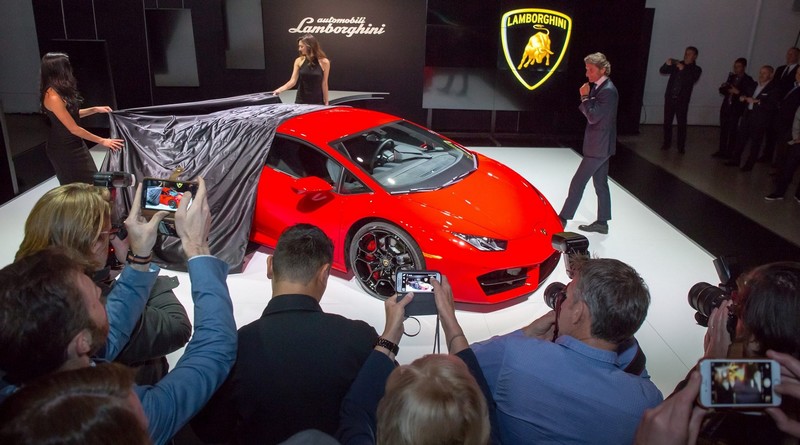 A two-wheel drive version of the Huracán coupe called Huracán LP 580-2 was presented this week by Automobili Lamborghini tocontinue the Lambo tradition of pure and technology-driven models. The new rear-wheel drive Lamborghini Huracán LP 580-2 model is "appealing to those wanting an even more intense driving experience, or who currently drive other rear-wheel-drive marques and aspire to driving a Lamborghini."
Previous Lamborghini rear-wheel drive models include the predecessor Gallardo LP 550-2. The Lamborghini Miura, Countach and Diablo in rear-wheel drive variants were perfect examples of the fun-to-drive concept. The rear-wheel drive Huracán LP 620-2 Super Trofeo launched in 2014, races at tracks worldwide in this year's three Lamborghini Blancpain Super Trofeo series in Europe, Asia and USA.
"This is the purest expression of a Lamborghini to date, with class-leading technological refinements. It is a serious car for serious drivers: it is maximum driving fun," said Stephan Winkelmann, President and CEO of Automobili Lamborghini.
With its naturally aspirated V10 5.2 l engine sending 426 kW / 580 hp to the rear axle, the Huracán LP 580-2's dry weight is just 1,389 kg, thus 33 kg lighter than the four-wheel-drive version. Weight distribution is biased 40% at the front / 60% at the rear, reducing inertia on the front axle. An entirely new power management set-up, encompassing modified suspension, new steering set-up and recalibrated stability and traction controls connects the driver as directly as possible with the road.  The selectable Lamborghini driving modes STRADA, SPORT and CORSA are tuned to provide oversteering characteristics, emphasizing authentic rear-wheel drive behavior.
The Huracán LP 580-2 sits on new, different-sized (front/rear) 19" Kari rims, enhancing the car's dynamic expression. Pirelli PZero tyres have been exclusively developed for the rear-wheel drive car. Steel brakes with aluminum brake disc calipers have been specially contoured for weight reduction and improved cooling.
The LP 580-2 is available in the full range of Huracán external and internal colors and trims. In addition, through Lamborghini's personalization program Ad Personam, the options for external and internal colors are limitless.
The Huracán LP 580-2 is available at a suggested retail price of 150.000 Euros + tax (Europe).