---
This article titled "Golf isn't the only gender offender" was written by Anna Kessel, for theguardian.com on Friday 28th March 2014 11.15 UTC
It was inevitable that something had to give. There is only so much negative publicity a sport can withstand, and after the sexism debacle over Muirfield hosting the Open last year – promptly boycotted by a band of public figures, from Clare Balding to Alex Salmond – golf was up to its eyeballs in it.
So it was a welcome move, albeit 260 years overdue, when the prestigious Royal & Ancient Golf Club (R&A) at St Andrews this week announced it would be balloting its members over whether to allow women to join their club. The ballot, of course, still means that the club may veto the suggestion, but golf's governing body says it has done its research, canvassed opinion, and is confident the plan will not backfire.
The fact remains, though, that Muirfield, Royal Troon and Royal St George's – three of the nine clubs allowed to host the Open – all still refuse to admit female members. Indeed, in 2016 Royal Troon will be the next men-only club to host the Claret Jug competition.
First off, let's be clear: less than 1% of clubs in this country have a single-sex membership policy, and at least half of those are women-only. Understandably, many people in golf have felt aggrieved at the negative onslaught. As Peter Dawson, chief executive of the R&A, said last year: "I totally believe in equality, but I do also believe that there are times when men need to socialise with men and women need to socialise with women … I don't think there's much wrong with that as long as nobody is disadvantaged by it." The problem with Dawson's statement is that it implies choice and opportunity, a level playing field.
But there are no women-only golf clubs prestigious enough to host the Open. So women are disadvantaged in not being able to access some of the best facilities in golf. As long as one group of people, determined by race or gender or any other demographic, has access to better facilities or opportunities than another, there will always be a lingering feeling of inequality; that golf's governing body would effectively endorse this privilege by inviting these clubs to host, and benefit from, the Open is both damaging and offensive.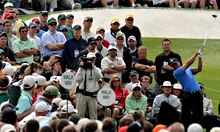 But will a rule change make everything better? I don't want to downplay the R&A's announcement but let's not switch the lights out and wander off with a whistle saying: "Oh well, that's that sorted, then." Just as the Augusta National Golf Club, which hosts the Masters, admitted its first female – and many would say "token" – members in Condoleezza Rice and Darla Moore in 2012, that does not automatically equate with wholesale cultural change. After the rules have been rewritten, and the signs taken down, there will still be a major process of change that needs to occur. And right now, looking across a number of sports, I'm not sure there is enough evidence that it is happening in this country.
While football has done away with many of those outward inequalities – racism is on the wane, and "men-only" signs outside boardrooms and in tunnels have largely disappeared – cultural change is still slow to materialise. A recent Women in Football survey found that 66% of women in the sport had witnessed sexism in the workplace; and while football clubs may not discriminate on who can be a supporter, they are hardly bastions of equality. Take a wander down Green Street, east London, and you find yourself in the heart of an Asian community. Take two steps further into West Ham's Upton Park ground and how many Asian faces do you see? Have a stroll through Tottenham, through the heart of a black community, then step inside White Hart Lane: how many ethnic minority faces in the stands?
Across sport the numbers don't add up. One third of Premier League players are from ethnic minorities, but only one Premier League manager. Public money props up our sports governing bodies, who are currently nowhere near even the meagre target of 25% female representation on their boards by 2017. But the government hasn't boycotted those sports, or refused to attend their events, or vowed to apply sanctions if they don't comply. Public figures have not shamed them. Journalists have not descended on those organisations en masse and fired questions at their media representatives. That's probably because the inequality is too wide-ranging and widespread. What would you boycott? Who would you petition? Where would you begin?
Golf is an easy target: pastel jumpers and rich men; it is easily lampooned. But until the spotlight is shone on all inequality in sport, we should not rest so cosily in our armchairs.
guardian.co.uk © Guardian News & Media Limited 2010
Published via the Guardian News Feed plugin for WordPress.