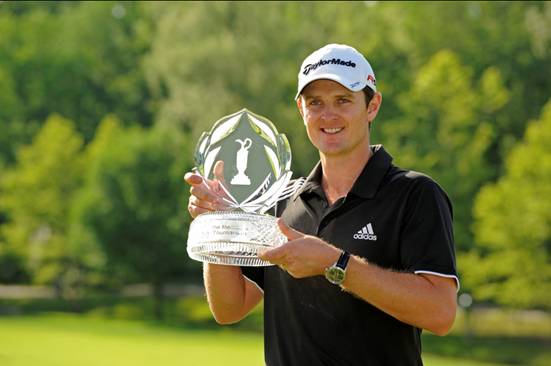 Justin Rose joined the English revival in golf on June 6 in Dublin, Ohio, rallying from a four-shot deficit to win the Memorial with a flawless final round for his first victory in seven years on the PGA Tour. Justin Rose is one of the Maurice Lacroix's Ambassadors, wearing the Maurice Lacroix "Masterpiece Le Chronographe". Wikipedia's founder Jimmy Wales and musician Bob Geldof are the other two Maurice Lacroix Ambassadors.
England's Justin Rose won his first PGA Tour title with arguably the finest final round of his life to win "The Memorial" at Muirfield Village. It was the second straight year the Memorial winner came from four shots behind.
Tiger Woods did it a year ago, and the 29-year-old Rose was equally impressive. He played bogey-free at Muirfield Village for a six-under 66 and a three-shot victory over Rickie Fowler.
'I couldn't wish for a better place – it's an honour' Rose told tournament host Jack Nicklaus after holing the winning putt. Rose finished at 18-under 270 and earned $1.08 million US with a victory that will move him just outside the top 30 in the world.
The former European Tour number one player is now ranked 13th in the PGA Tour Fedex Cup standings and is well set to make the European Ryder Cup team.