Global James Bond Day celebrated with gowns and tuxedos
EVERYTHING OR NOTHING: The Untold Story of 007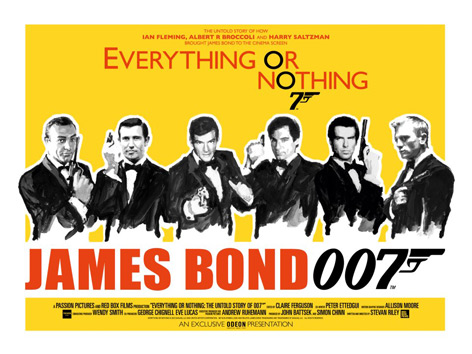 James Bond film franchise, the longest running in film history with twenty-three films produced, turned 50. The anniversary is celebrated worldwide on October 5th with the Global James Bond Day. Dr No was brought to the screen in 1962 by Albert R. Broccoli and Harry Saltzman who adapted Ian Fleming's books.
In the US, events for Global James Bond Day include a film retrospective at The Museum of Modern Art in New York and a Music of Bond Night hosted by the Academy of Motion Picture Arts and Sciences in Los Angeles.
In the UK, an auction of James Bond memorabilia is taking place at Christie's with all proceeds going to UNICEF and a number of charitable causes, and Adele will premiere "SkyFall", the official theme song. In Belgium and South Africa, offices will celebrate with Bond-themed Casual Fridays where people will turn up to work dressed in gowns and tuxedos. In addition, EVERYTHING OR NOTHING: The Untold Story of 007, the feature documentary, will be screened in Australia, Belgium, France, Holland, India, Japan, Latvia, Mexico, and Russia.
The documentary Everything or Nothing: The Untold Story of 007 is directed by Stevan Riley (Fire in Babylon) and produced by John Battsek (One Day In September, The Tillman Story) and Simon Chinn (Man on Wire). Everything or Nothing focuses on three men with a shared dream: Bond producer Albert R. Broccoli, Harry Saltzman, and author Ian Fleming. It's the thrilling and inspiring narrative behind the durability, popularity and survival of the longest running film franchise in cinema history since Mr. Bond hit the big screen in 1962.
"From Sean Connery and Roger Moore, to Pierce Brosnan and Daniel Craig – the integrity of Bond has never changed and has never been more entertaining. Our documentary and movie marathon is a great way for us to reach our viewers and we're pleased to partner with all our distribution partners to bring the background of this iconic spy to all their subscribers just in time for his latest adventure, Skyfall," said Mark Greenberg, EPIX President and CEO.
The Dezer Collection Automotive Museum in Florida currently exhibits the largest James Bond vehicle and memorabilia collection in the world, plus over 1,200 vehicles including American/European Classics and Hollywood Cars of the Stars.
Constituting one of the largest collections of James Bond props and vehicles in the world, the Dezer Collection's James Bond exhibition is valued at over $15 million and includes a fascinating array of automobiles, motorcycles, submarines, airplanes, helicopters, boats, and snow mobiles. The collection is home to the golden gun itself, a T-55 Soviet tank featured in the 1995 Bond film Goldeneye, a BD-5 Microjet, and six Aston Martins including the original 1964 silver Aston Martin from Goldfinger and the silver Aston Martin Vanquish (equipped and displayed with machine guns) from Die Another Day, among many other props. Our James Bond museum will also showcase vehicles from the Ian Flemming foundation.