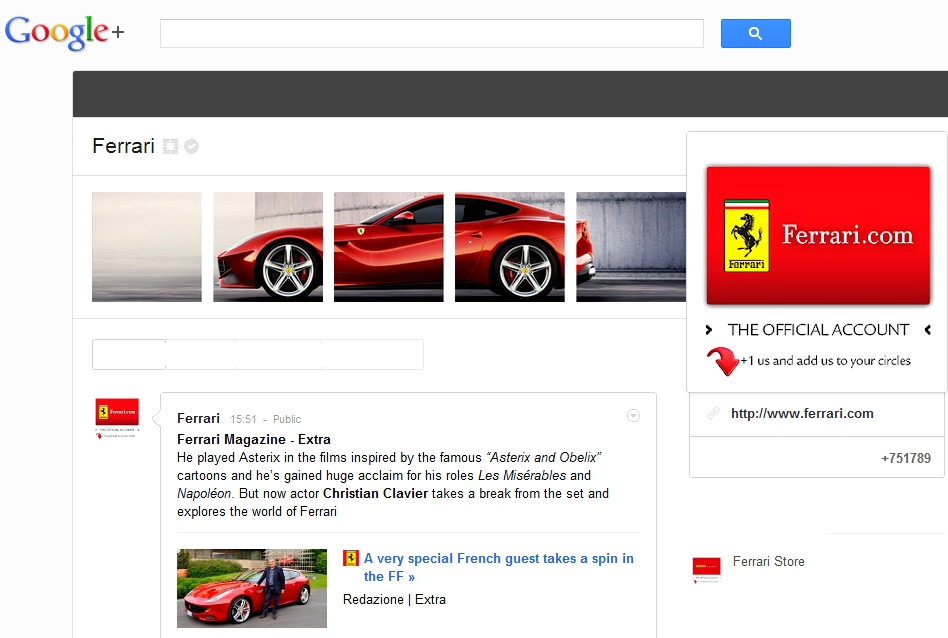 Luxury brands take lead position on Google+, according to Simply Measured social media analytics study. Ferrari, GUCCI and H&M rank as the top brands on Google+, with the strongest levels of consumer engagement across all Interbrand Top 100 brands. The company's quarterly study of the top global companies on Google+ shows exponential growth in participation among brands and consumers, with a 138 percent circler increase across all pages since February 2012.
Today, 64 percent of the Interbrand 100 now maintain Google+ brand pages, including Nike and Xerox, who launched pages this quarter. There has also been a shift in brand engagement, with luxury, automotive and electronics brands leading the way. Overall, average weekly fan engagement is up 112 percent over the previous quarter, with average content engagement also up 65 percent.
The Simply Measured Google+ study evaluates brands and verticals included in the Interbrand 100, identifying key trends and strategies companies use to engage with consumers through social media. Current findings include:
Circles Are Expanding – There was a 138 percent increase in circles across all pages over the last quarter, demonstrating that brands are getting more active and consumers are getting more comfortable with the platform.
Top Industries are Shifting – While electronics continues to rank as a top industry for the second quarter in a row, automotive and luxury verticals have overtaken beverages and internet services.
H&M Maintains Momentum, Luxury Brands Take Lead Position – For the second quarter in a row, H&M ranked as one of the top three brands, behind Ferrari and GUCCI which now rank in first and second place, respectively. In addition, Nike and Xerox both launched brand pages over the last quarter and will be brands to watch.
Multimedia Content Dominates – Video and photos are the most frequently posted content and drive the strongest engagement. Overall average content engagement is up 65 percent.