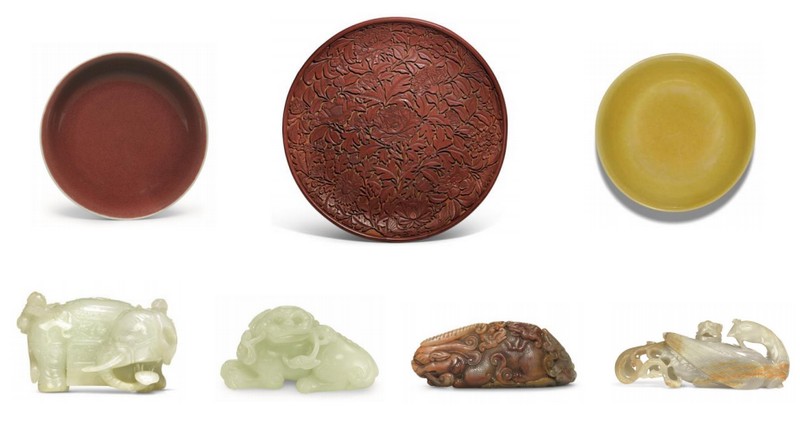 Following an outstanding year in Chinese art, Sotheby's Important Chinese Art auction in London on 10 May 2017 showcases a selection of notable Chinese ceramics and works of art across the disciplines of imperial porcelain, lacquer, jade and Buddhist sculpture. Skilfully crafted and spanning China's long and rich history, they offer a glimpse into the evolving tastes of both the imperial court of China and international markets.
Leading the sale is an exceptionally rare and large carved cinnabar lacquer dish from the late Yuan/early Ming period. Featured in the Oriental Ceramic Society exhibition 'The Arts of the Ming Dynasty' in 1957, the dish also boasts an enviable provenance, having been owned by a series of distinguished collectors including Sir Percival and Lady David and Percy D. Krolik.
The auction is preceded by Menagerie, a delightful English private collection of animals, birds and sea creatures carved and modelled from a variety of materials, including jade and bronze. Comprising 100 lots, each brimming with auspicious associations and reflective of Chinese culture through the ages, this sale is highlighted by an exquisite white jade carving of two boys clambering playfully on an elephant to symbolise happiness and good fortune.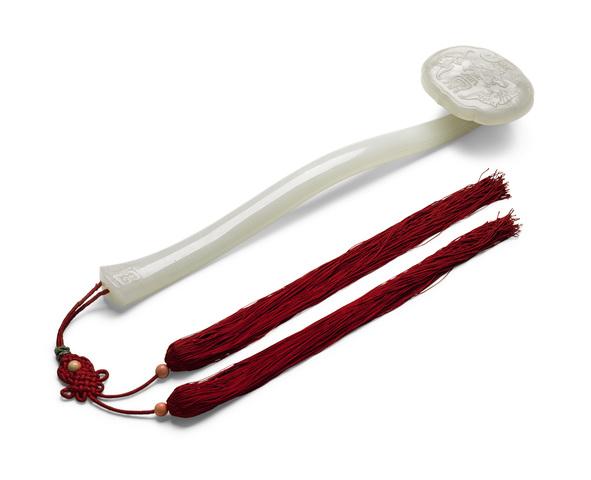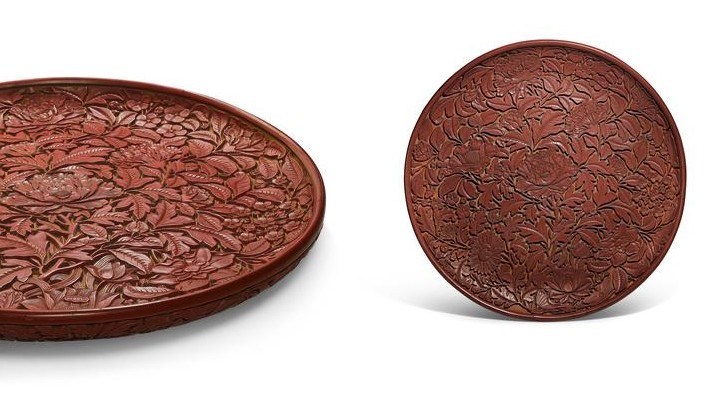 This large Carved Cinnabar Lacquer dish (Est. £400,000-600,000) represents one of the finest examples from the period when lacquer carving in China experienced its absolute peak. The sensitive, naturalistic rendering of the flowers, the complexity and yet harmony of the luxurian interwoven flower design, the impeccable craftsmanship of the carving, and of course the monumental dimensions of this piece are hard to surpass.
The century or so from the late Yuan (1279-1368) to the early Ming dynasty (1368-1644) witnessed the evolution of the art of carved lacquer ware in south China from a decorative craft to a branch of imperially produced artefacts of the highest order, in parallel to a similar development of Chinese blue-and- white porcelain.
Lacquer ware of this period is infinitely rarer than contemporary porcelain, because its laborious manufacturing process did not lend itself to series production, but was dependent on the ability of individual craftsmen.
The time-consuming process of building up a thick enough layer of lacquer by adding and preparing multiple thin coatings, each of which needs to dry before it can be polished and the next one applied, and finally carving the design into it, could stretch over years. The dish now returns to Sotheby's London for the fourth time in over half a century with an illustrious history, having successively formed part of three important collections, including that of Sir Percival and Lady David. Sir Percival, whose uncanny eye for quality is impressively documented in his collection of Chinese ceramics, now in the British Museum, was ahead of his time during a period when early carved lacquer remained much of a mystery.