Maltese Cat is back with ESCHEATMENT Chapter 7 & 8.
Dear e-readers, Book 1 in the Maltese Cat Book Series entitled Escheatment continues with Chapter 7 and Chapter 8. Read Chapters 1 & 2 here, Chapters 3 & 4, and Chapters 5 & 6.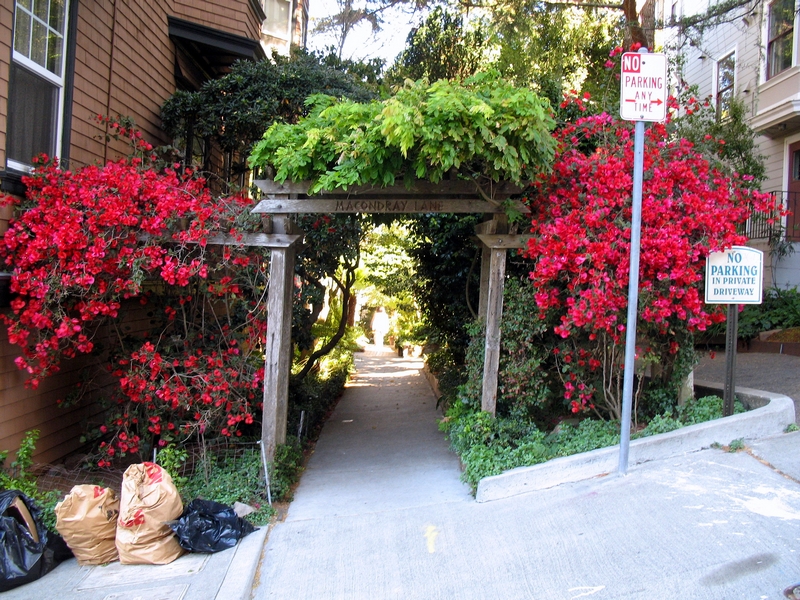 Chapter 7
Macondray Lane
The Maltese Cat parked on the street, mainly because he found a parking space right away and he would be heading out again later. He rented a garage a block and a half from here since his house had none itself. The auspicious parking spot made using his garage at this moment unnecessary.
Meandering down the narrow pedestrian path that was Macondray Lane, he remembered the first time he had discovered this place. Discovered was the wrong word because a childhood friend had taken him to this secret, wondrous place. It was a refuge in a city of asphalt and rising steel buildings. Nestled in between Green and Union Streets, Macondray Lane was only two blocks long. Small houses cuddled up to one another, with flowers planted in front of most.
Later, as a college sophomore, the Cat had shot part of a project film using a house in Macondray Lane. The spiral staircase of the three-storied wooden structure appealed to him. In the middle of the shoot, the owner opened the front door and asked what they were doing. Not in a gruff, mean manner but rather in a tone of inquisitiveness. The Cat replied that they were shooting a school film and asked if the owner would mind if they used his staircase. The owner agreed and quietly shut the door. The owner's demeanor impressed the Cat enough that he thought, one day I might just want to live on this street. Later, in the year 2000, when he returned back to San Francisco after having lived abroad for years, he visited this quaint, little lane. As he was browsing through childhood memories, a woman asked him what he was doing. Upon explaining his story, she said she had a house there which she had been contemplating renting and asked if he would be interested. It took only a summary inspection to know that the Cat had found a new home. It was not the building with the spiral staircase, but it had a magnificent view of the San Francisco Bay. How lucky could one get? The Cat had no qualms about renting over buying. San Francisco had such a strict rent protection program that long term renters were insulated against the high inflation of property prices.
As he slipped into his home, his cell phone rang. Cell phones all but obviated the need for landlines these days. Well, he thought, there goes my refuge.
Chapter 8
The Zapp Kids
When the Maltese Cat returned to San Francisco in the year 2000, he reconnected with friends with whom he had long lost contact. One, in particular, was Vickie. He had first met her when he was 8 years old. She had been his Cub Scout Den Mother, and later she had become his mother's best friend. She lived directly adjacent to an elementary school in the Avenues where she worked in the cafeteria kitchen. Well into her eighties, she didn't need to work, but she loved being around children. Especially now that her three sons had grown up and moved away from home, leaving the widow alone in her house. She had lived in the same house for over thirty years and had seen generations of children pass through. Named Victory, having been born on Victory Day, in September of 1918 which commemorated the end of World War I, she was known simply as Grandma Vickie by the children in school.
One day, the Cat was sitting with her at midday in the breakfast room, off to the side of her kitchen. A teacher from the school, Jenny, had dropped by during her lunch break, which she often did. Jenny was the Communications Arts teacher, responsible for the school's computer science department. On this day, Jenny was upset about the current economic situation.
"The dot-com bubble burst right at the wrong time."
She was referring to the stock market collapse that had seen many of the internet companies in San Francisco either declare bankruptcy or simply shut down their operations.
"We had been promised an entire bank of computers from Talliwell Industries. Now they say that they can't keep their promise and are letting all unessential workers go. That's a fancy way of saying they are shutting their doors, permanently."
The Cat listened and decided that perhaps he could help.
"I'll tell you what. I know of some companies that might be getting rid of their computers. Maybe they could donate them to you."
"That would be great. What we really need, though, is an afternoon program for these kids. Some of them are bored in their classes. As you probably know, the school is no longer strictly a neighborhood school. Instead, these kids come from all over the city to attend here. We get some brilliant kids, but they are not challenged in the regular courses."
"Let me see what I can do. You'll have to set up the classes, though."
"Uh, that's a problem."
"Why?"
"The school doesn't have the budget for any more after school programs. And we aren't insured for them."
The Cat could only reply, "Hmm," as he tried to think of a solution. That was when Vickie spoke up.
"Hell, that's no problem. They could meet here. I have the garage free, as well as the rumpus room down there. Just like you used to use it in Cub Scouts."
"We'd need an adult monitor," said Jenny.
"I'm not doing anything," said Vickie.
With that, the beginning of the afternoon computer users group started. The Cat was able to collect eight IBM ThinkPad 365XD laptop computers that a failing new start-up company donated. The computers had been upgraded to Windows 98 from their original Windows 95 and they were in excellent condition.
A small group of students attended the first meeting. All were extremely bright and enthusiastic, but not the most popular kids at school. That was usually the case with gifted nerds. They had difficulties fitting in with the rest of the crowd.
The original group included Tommy, Pratap, Ronnie, Dieu, Susan, and Avram. Other children came and went but these six showed up every time. They welcomed the idea of the computer users group of their own and soon they were gathering every day after school, and using the weekends, as well.
Ten-year-old Tommy fell into the role as leader. He had a penchant for wearing GAP t-shirts. One day he appeared with the G on his shirt crossed out replaced with a Z and another P added to the word. One of the gang queried him.
"Bro, what's with the vandalized shirt?"
Tommy explained, "Mr. Jaxson always says we are the non plus ultra. That means The Very Best or in Latin nothing further beyond. So I took the Z as the last letter of the alphabet. Since we are so very good at creating applications, the app stands for applications. The very best at creating applications. Get it?"
Then he turned back to his computer.
The others just smiled and shook their heads.
But, the next day they started showing up in GAP t-shirts, adulterated to read ZAPP. They had no club name anyhow. The fashion even caught on at school, although the other students had no idea what it really meant and made up their own explanations for the word. Eventually, the t-shirts brought the computer group together as a unit. The Cat affectionately called them his Zapp Kids and the name stuck.
As the kids started to get to know each other, they began to give each other nicknames. Pratap Gupta, because of his ability to multi-task so well, became Vishnu, the Hindu god with 4 arms. Ronnie Ballestreros had a love for Arby's sandwiches, which he always brought with him. He was dubbed Arby, also from his initials R.B. Tran Dieu, a Vietnamese immigrant, the eternal optimist, became Can Dieu. Susan Cassidy never liked her given name. When the others found out how efficient she was, Tommy named her Effie for Efficacity and she embraced the new name. Avram Horowitz was a fellow who liked to work on his own. When the group would socialize a bit, with their geekish humor, Avram would suddenly leave, saying, "I have to get back to work." Before long he became known as Twerk. The rest of the group had an inside joke on this until Avram found out on YouTube what twerking was. Tommy Hsia remained Tommy, although sometimes the others referred to him as Tommy Zapp or just Zapp, for obvious reasons.
Through the years, this core group stuck together. They accepted Vickie as their monitor, but they soon realized that the Maltese Cat was their benefactor. As they got older, they depended more and more on his advice and soon this project became a regular routine for the Cat. They were inquisitive and precocious children, and they always had questions for the worldlier Cat. In actuality, both the Zapp Kids and the Maltese Cat grew over time as all benefited from the relationship. After they completed high school, the Cat had helped them financially when they attended local universities and got their degrees.
By 2011, the Cat had long let his stock brokerage licenses lapse since he no longer was actively involved in investment trading for client accounts. The Zapp Kids were finishing with college, so he gave them a challenge for constructing stock trading models. It was meant only to entertain them and to give them a project. The kids attacked the problem with zeal, each trying to transcend the others. In the end, together as a group, they developed a system for identifying trades and beating opponents to the exchange by using computer-driven algorithms to buy and sell shares in milliseconds. Using trading accounts which the Cat set up at a brokerage house, they tested the models through actual trading and made a fortune. This ensured that each of the original members became independently wealthy. Later, this method was revealed by others as Flash Trading. For this, and for many other reasons, the Zapp Kids were undyingly loyal to the Maltese Cat.
Although he never intended it, the Zapp Kids had become an invaluable part of the Maltese Cat's present day operations. He had seen them grow from naive, nerdish children into very self-assured and competent adults. They developed from being top notch in applications software, which they still sold, to hacking other computers, to becoming specialists in security breaches. Their ability to research and investigate subjects was beyond comparison. They gave the Maltese Cat the technological advantage over those with whom he battled.
The Zapp, Inc. office overlooked the San Francisco Bay from the 15th floor of the 18-story high-rise Fortuna East. Once the kids finished their university studies, they decided to stay in San Francisco and work together. They created their own company. The Cat searched for new office space to replace the garage that they have used since the computer club's inception. The Fortuna East was an apartment complex near Ghirardelli Square, one of two towers, East and West. Elderly people lived there. Businesses were not allowed, but the setting was ideal, and all the building rules and regulations from the company that managed the building were not going to thwart the Cat's efforts. The Kids were quiet and courteous and raised no suspicions when they came and went at all hours of the day. In fact, they were well liked by the other tenants since they were friendly and often helpful to the inhabitants.
Now the Maltese Cat walked into the Zapp Inc. office. It was set up in an open room with desks and laptops with over-sized screens. Only Twerk had cordoned off his own area near a window that looked over the San Francisco Bay. It was not that he was anti-social. He just worked better alone, undisturbed.
Tommy was talking with the group.
"The other day Vishnu and I were walking down Haight St. when we see this shop with stuffed toy animals called Zack's Menagerie. Vishnu wants to go in. When we get inside, this hippie guy behind the counter greets us and says, 'Hi! I'm Zack!' "
I asked, "Are you the owner?"
"Yep, that's me. Just like the sign outside says."
"I said, 'So, you must be the Hip Eponymous in this zoo'."
All the rest of the Zapp group laughed and groaned simultaneously at the pun.
"The fellow says, 'Huh?' He just never got it."