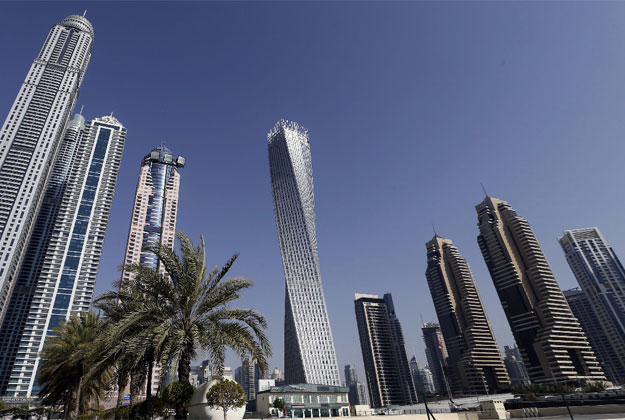 The prestigious Marina district in Dubai is home to Cayan Tower – world's highest twisted tower. Stretching 310 metres into the sky, the 73-storey skyscraper, which costed 272 billion dollars, mimics the shape of human DNA. The effect is achieved by rotating each floor by 1.2 degrees.
The tower was designed by Skidmore, Owings and Merrill SOM architectural group, the same group who built the Burj Khalifa also in Dubai and Trump Tower in Chicago. Construction of the 306 m (1,004 ft) building began in February 2006 and topped out in 2012. The tower's twist is similar to the Turning Torso in Malmö, Sweden, and other recent projects in Doha and elsewhere.
The Cayan Tower was inaugurated with fireworks accompanied with laser light display on the tower on June 10, 2013 and became the worlds tallest twisted tower, surpassing Turning Torso. The tower was renamed from Infinity Tower to Cayan Tower.
"There are more than one tower with the name Infinity and we wanted something different, We are very attached with this unique project and it was a very conscious decision we took. We know there won't be any Cayan Tower in the world and this will be the only one," explained the developer Cayan Real Estate Investment and Development.