King Cole Bar & Salon by John DeLucie unveiled at St. Regis New York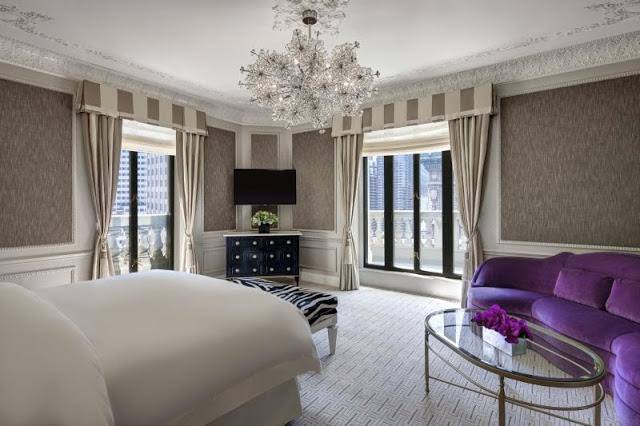 The multi-million dollar, comprehensive renovation at The St. Regis New York, one of Manhattan's best addresses, culminated this November 2013, with redesigned guest rooms, suites, hallways and public spaces, like King Cole Bar & Salon by John DeLucie's epicurean experience. HDC, the renowned interior design firm that transformed The St. Regis Florence, has created an aesthetic based on a "timeless is modern" philosophy, embracing the design legacy of the hotel while infusing contemporary style.
The treasured King Cole Bar, Manhattan's most storied meeting place, saw the expansion into the King Cole Bar & Salon, where an extensive lounge features a dramatic open fireplace. Uptown sophistication meets downtown chic in this reimagined space where The St. Regis New York will also debut a new culinary partnership with renowned New York chef and restaurateur, John DeLucie.
The new restaurant will feature modern American cuisine with an international twist. The menu will offer a tailored selection of small plates including new creations, DeLucie's celebrated specialties and reimagined classics from the hotel's early days.
"Since it opened in 1904, The St. Regis New York has entertained every generation of society with the unique ability to capture the ever-changing spirit of the city and stay synonymous with impeccable style and inherent glamour," said Paul James, Global Brand Leader, St. Regis, The Luxury Collection and W Hotels Worldwide. "This renovation marks a momentous occasion for the St. Regis brand, a New York icon, now celebrated at 31 hotels around the world, each setting the stage for the next generation of luxury travelers."
An extensive art program, with emphasis on New York City photography by Janet Arsdale and Hampton Hall, is integrated into every guestroom and suite. Additionally, every bathroom in the entire hotel will be renovated, refurbished, and updated to create a spa-like atmosphere paired with the latest technology.
The St. Regis' master suites underwent redesign and extensive renovation complementing the reimagined guestrooms.
The dramatic Imperial Suite features European Chinoiserie and East Asian furnishings set against alluring red tones with crystal and gold leaf accents. Mixed stylistic influences and a reinvented open floor plan will lend a residential flow to the space, while plush new window seats will offer both stunning views of Manhattan to Central Park, and serve as cozy havens for retreat.
The Royal Suite will embody the perfect mix of European style and American spirit. The suite will feature a rich color palette, gilded moldings, exotic prints and an eclectic art collection.
The Presidential Suite has been reimagined as a sumptuous collector's suite where sophisticated global luxury travelers will surround themselves with the art and treasures of their travels. Furniture styles range from contemporary to classic.
The renovation brought new luster to the hotel's exclusive collection of designer suites: Bentley, Tiffany and Dior Suites while maintaining their unique and beloved bespoke décor.