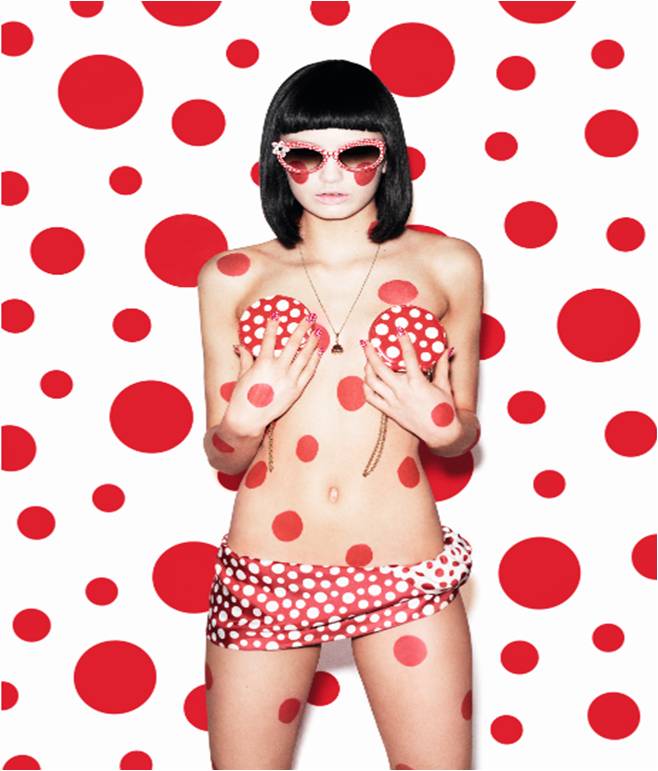 Obsessive, repetitive, rhythmic. The art of Japanese genius Yayoi Kusama, the Princess of Polka Dots, is blending with Louis Vuitton's creativity. Yayoi Kusama's favorite motif, the dot, besieged LV concept stores, a new iPhone App and the products of the new collection "Dots Infinity". For this occasion, Louis Vuitton will open worldwide several pop-up stores. One of them will be opened at Printemps Paris from August 23 to October 21, 2012.
The French house will offer a new digital experience with a total immersion into the world of Yayoi Kusama. The new Louis Vuitton Kusama Studio iPhone App allows to "reinvent" the reality. Everybody cand see the world through the eyes of Yayoi Kusama and transform photos with effects that recall the arstist's works.
After successful collaborations with dynamic artists and the launch of the Young Arts Projectin London, Louis Vuitton supported the 2012 exhibition of Kusama. Organized by the Tate Modern in London – in collaboration with the Museo Nacional Centro de Arte Reina Sofia in Madrid, the Centre Pompidou in Paris and the Whitney Museum of American Art in New York – the exhibition focused on the greatest innovations of the artist. Canvases covered with infinite peas reflected a unique Dots Infinity universe.
Explore the world of Louis Vuitton and Yayoi Kusama at louisvuittonkusama.com
http://www.youtube.com/watch?v=Evtby8YGyKI