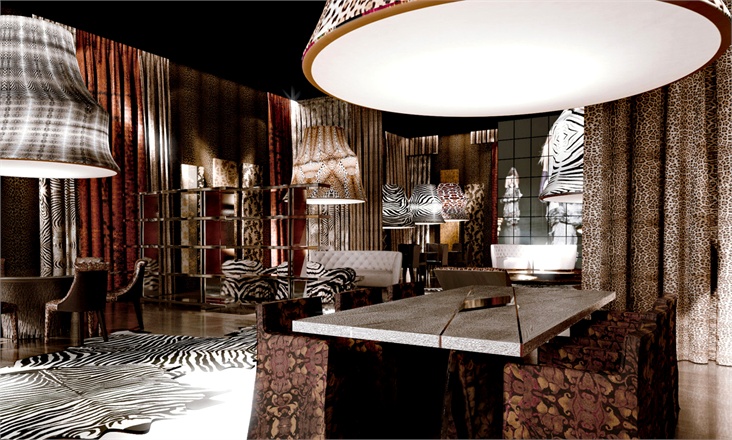 The Roberto Cavalli Group expanded the "Home" sector, offering Murano glass lamps, rugs and tableware. The new ranges will make their debut during Salone del Mobile Milano.
"The decision to create 'Roberto Cavalli Home' derives from my personal desire to share with those who love me the joy of living of my design, of my creativity, of my philosophy and of my style, also in the home decoration sector," explained Roberto Cavalli.
In line with the philosophy and the DNA of the brand, which always united the concept of fashion and design with glamour and sensuality, "Roberto Cavalli Home" aspires to the iconic prints and the most significant patterns of the collections of the designer: from animalier to damasks, to overlaps of colors and textures.
"The home and objects that surround us reflect the lifestyle of each of us, the fantasy, the memories of a trip, a dream of the heart and of passion… we are always looking for new inspirations in order to be surrounded by objects and a setting in which we feel comfortable," said Roberto Cavalli, Founder and Chairman of the Roberto Cavalli Group.
The Roberto Cavalli Group intends to introduce these new product categories on the Italian, European and American markets as well as in those areas with the strongest economic growth including Eastern Europe, the Middle East, China and Asia Pacific.
In particular to create "Roberto Cavalli Home", the Roberto Cavalli Group signed development, creation, production and distribution license agreements, all lasting five years until 2016 with: JC Passion for the furniture and furnishing accessories line; Industrie Emiliana Parati for the creation of a wallpaper line; Gruppo Ceramiche Ricchetti for floor coverings and ceramic outdoor and indoor floors; Caleffi for bed, bath and table textile line; Formia International in Venice for Murano glass lamps; the U.S.-based Roubini and Arnolfo di Cambio Compagnia del Cristallo for tableware.