After a serious hit in 2008 and 2009, the French champagne industry is preparing for a good season. The first signs of a bumper year came this past summer. The CIVC, which sets the criteria for the harvest, authorized the maximum volume of grape picking—a sign of optimism for the medium term as grapes picked this year will be aged for at least two years.
The champagne rebound reflects the effervescence in the luxury-goods industry as a whole,  says wsj.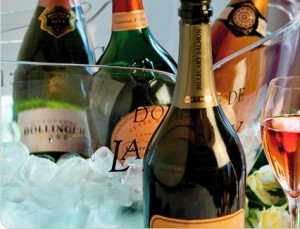 "Champagne sales are faring well ahead of the holiday season and are up 15% compared to 2010," said Emeric Sauty de Chalon, president of French online wine shop 1855, which last month organized a major champagne tasting in Paris.
The world's largest luxury-goods group, LVMH Moët Hennessy Louis Vuitton, the owner of fashion and beauty brands such as Louis Vuitton and Guerlain as well as several champagne labels, recorded 15% sales growth over the first nine months of 2011. Luxury fashion rivals such as Hermès and PPR's Gucci logged similarly robust growth.
Though sales may not reach the levels seen before the crisis, "we're getting closer," said Stephanie Mingam, the spokeswoman for drinks group Pernod Ricard's champagne division, which owns Mumm and Perrier-Jouët champagne.