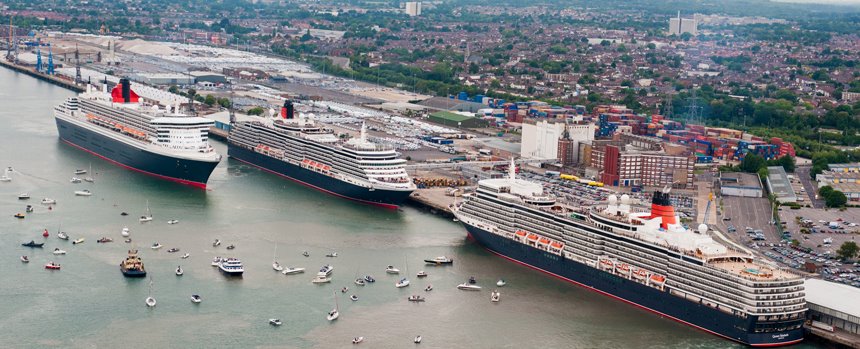 In 1922, Cunard invented the world voyage when Laconia set off on the first-ever circumnavigation of the globe by a passenger ship, and since then Cunard ships have undertaken more world voyages, carried more passengers on world voyages and visited more destinations during world voyages than any other line.
In 2015, Cunard will commemorate the 175th year of the company's founding, and the global voyages planned will celebrate the significant milestone in style. This festive time will herald several Cunard Royal Rendezvous events during the World Voyage itineraries: Queen Mary 2 and Queen Elizabeth will depart Southampton together on 10 January; on 12 March, Queen Mary 2 and Queen Victoria will meet in Sydney; and on 3 May, all three Queens will return from their World Voyages to Southampton.
"We have completed more circumnavigations and taken more passengers on this incredible journey than any other cruise line. And no other ships are welcomed around the world as warmly as the Cunard fleet. Our ships' arrivals into port attract well-wishers in the thousands – on the water and ashore – it is part of the magic of the Cunard world voyage experience," commented Peter Shanks, president of Cunard Line.
With four maiden calls and an enhanced East-West loop including New Zealand, flagship Queen Mary 2 kicks off her exciting 113-night WorldVoyage from Southampton and will visit 38 ports of call in 21 countries.
Destination highlights will include celebrating Chinese New Year in Sanya, China; travelling through the Suez Canal; extensive cruising of New Zealand's Fjordland and iconic city waterfronts; Sydney Harbour; and an East-West loop that includes Auckland, Singapore and Hong Kong.
Queen Victoria's 103-night Pacific Exploration itinerary will visit 33 ports in 21 countries, including two Panama Canal transits and two Transatlantic Crossings. Additional options include a South Pacific cruise starting in Los Angeles or San Francisco, visiting Sydney, and then returning to Los Angeles. Guests will also have the chance to view other iconic city waterfronts such as New York, Sydney Harbour and Auckland with one overnight call in Sydney.
In 2015, Queen Elizabeth will sail a captivating 112-night Western Circumnavigation itinerary that will visit 38 ports in 26 countries, including her sail past Gallipoli on 24 April 2015 to commemorate ANZAC Day and the 100th Anniversary of the Gallipoli Campaign of World War One.