2012 set to be the best tourist season in Croatia's history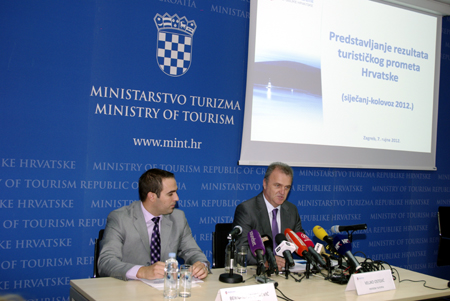 For the first eight months of 2012, Croatia had registered record tourism figures. "Based on the results achieved so far and announcements (for the rest of the year) this is the best tourist season in Croatia's history," said Tourism Minister Veljko Ostojic, adding that Croatia would be the winner in the Mediterranean according to the number of tourist arrivals.
During the first eight months of the year Croatia hosted 9.82 million visitors that generated nearly 59 million overnights, up 4.2 percent in arrivals and 5.6 percent in overnights on the year.
"The goal is to achieve or surpass seven billion euros ($8.8 billion)" in income from tourism, Minister Veljko Ostojic added. He reiterated his expectations that this year income from tourism would be 3-5% higher than last year's.
The Croatian National Tourist Board plans next year to strengthen continental tourism, the pre and post- season, and invest more on online marketing. Investment in tourism for 2013 will total 32,686,667 euros, slightly less than the amount invested in 2012, which totalled 33,026,660 euros.
"That kind of investment is needed for our tourism, for hotels which will be precisely positioned on the market, which will raise the quality of the destination," said the Minister.
The public and private sectors are expected to equally invest in tourism, helped by the Croatian Bank for Reconstruction and Development (HBOR) credit lines launched this year, a reduction of the VAT rate in tourism to 10% as of early 2013 and new legislation that is being drawn up to facilitate investing in tourism, the minister said.
'Ode to Joy', the promotional video of the Croatian Tourist Board, won a prestigious travel industry's 'Oscars' award 'Das goldene Stadttor' at the International Tourism Film Festival held on 8 March 2012. The festival is held annually as a part of International Tourism Fair ITB in Berlin.