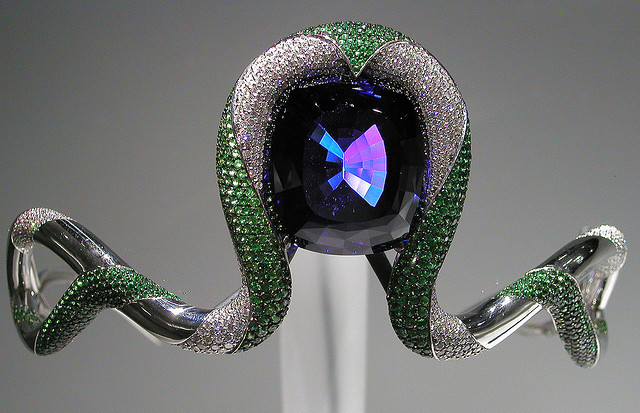 Discovered 46 years ago deep in the foothills of Mount Kilimanjaro in Tanzania, Africa, tanzanite is a rare gemstone ranging in color from luscious blueberry to striking indigo. The rare gem it is found only in the foothills of Mount Kilimanjaro. Because it is relatively soft, tanzanite is most commonly set in necklaces and earrings.
One of the most famous large tanzanites (242 carats) is the "Queen of Kilimanjaro". It is set in a tiara with 803 brilliant cut tsavorite garnets and 913 brilliant cut diamonds. The piece is part of the private collection of Michael Scott, the first CEO of Apple Computers.
Discovered in 1967, Henry B. Platt, great grandson of Louis Comfort Tiffany and later President of Tiffany & Co, named the stone 'Tanzanite.' He introduced it to the world with great fanfare at Tiffany & Co in 1968.
"This gemstone is 1,000 times more rare than a diamond and owes much of its beauty to an unusual gemological property called pleochroism, which is the ability to exhibit more than one color. Tanzanite can exhibit blue, blue-green, violet, purple, bronze or even gray hues," explained Jill Johnson, vice president of marketing for Jewelry Television, one of the world's largest retailers of tanzanite.
"Because tanzanite has only been found in one place in the world, experts do not expect the supply to last forever," said Johnson. "Some gemologists predict that supplies will be depleted within 30 years," added Johnson.