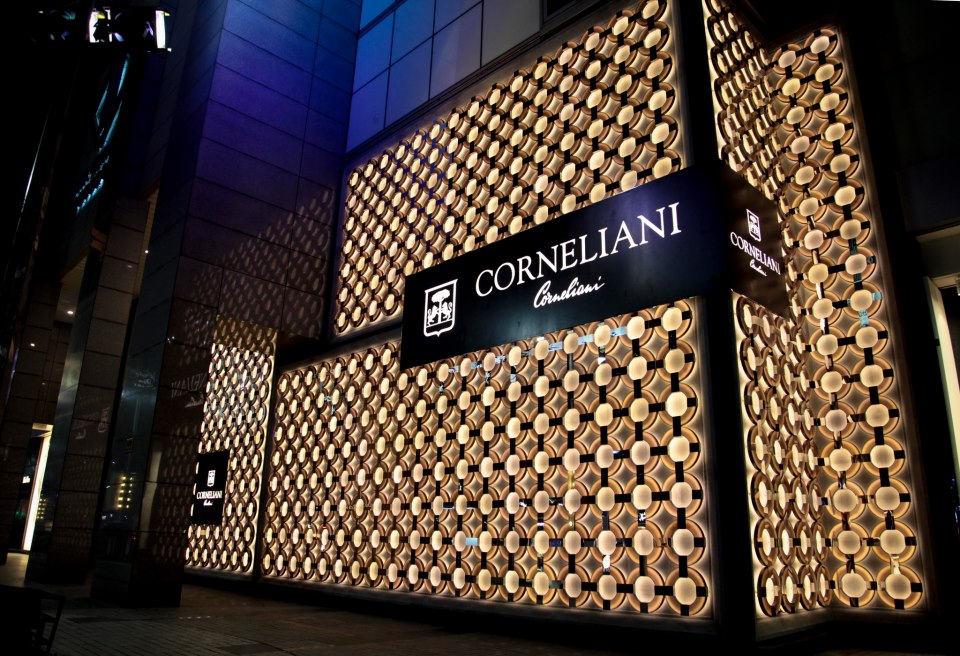 Italian menswear brand Corneliani rounds off 2012 by opening a three-level new single-brand store in Citic Square, the exclusive mall on one of China's most famous shopping streets.
Designed by architects Daniela Podda and Paolo Ponti, the new boutique (the brand's 40 in China) is set over three levels with a facade completely covered with striking interlinked bronze rings which were then repeated in wood on the interior façades of two of the floors.
The interlinked rings motif chosen to distinguish the façade of this exclusive flagship storeevokes painter Andrea Mantegna's decorative invention for his masterpiece, the Bridal Chamber,in Mantua's St. George's Castle. It was adopted primarily as a symbol of the affectionatebond that Corneliani has with the city that is its historic birthplace.
At the same time, the exterior of the new boutique pays homage to Chinese culture. One of the symbolic meanings of the circle is linked to the concept of Guanxi, the network of personalrelationships which the Chinese strive to build and sustain throughout their lives.
Inside, the design and materials echo the concept chosen for Corneliani's Milan flagshipstore, featured in other stores since 2010 and reworked here in a sombre style. Coverings in anegré, leather, suede and patterned microfibre, macassar ebony panelling, polishedstainless steel finishes, imperial marble floors and carpeting come together in a series ofcolour variations dominated by tones of dark brown, sand and light grey.