F-22 Fighter Jet-Inspired, 545-Horsepower Ford F-150 Raptor Sells for $300,000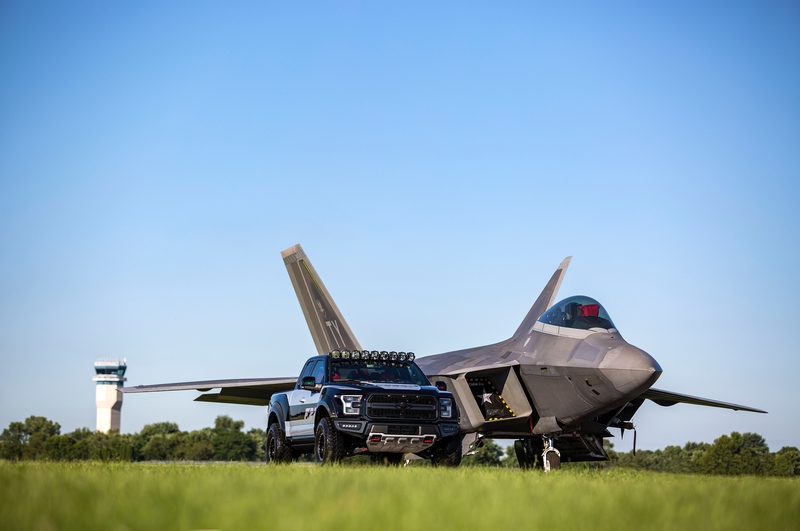 F-150 Raptor is the ultimate high-performance off-road truck – the toughest, smartest, most capable Raptor ever. Delivering 450 horsepower and 510 lb.-ft. of torque, Raptor's exclusive Terrain Management System gives it superior agility.
Ford's design team created a Ford F22 F150 Raptor based on the U.S. Air Force's Lockheed Martin F-22 Raptor fighter jet for auction at AirVenture Oshkosh. The one-of-a-kind truck fetched $300,000 for the Experimental Aircraft Association Gathering of Eagles – an organization and an event committed to aviation and encouraging youth involvement in flight. Gathering of Eagles is traditionally held at the Experimental Aircraft Association AirVenture Museum, drawing more than 1,000 aviation enthusiasts.
Ford has raised more than $3 million for the annual event since 2008 by creating collector's edition vehicles, with F22 F150 Raptor the premier offering at this year's live gala July 28. Ford served as exclusive automotive sponsor of the 2017 AirVenture Oshkosh fly-in at Wittman Regional Airport in Oshkosh, Wisconsin.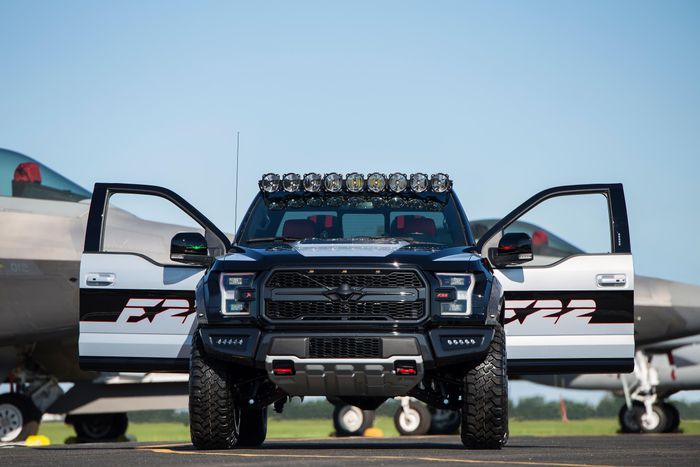 The F22 F150 Raptor was purchased by Gary Ackerman of Gaudin Ford in Las Vegas, Nevada. The vehicle has found the perfect home in that Ackerman serves as Honorary Commander/Ambassador for the United States Airforce's F-22 Squadron at Nellis Airforce Base in Nevada.
F-150 Raptor shares key F-22 design details, including red and green position lights in front that enhance left and right mirror skull caps, unique glossy and matte exterior cues and cockpit tweaks.
"Our job – both in the air and on the ground – is to intimidate the competition," said Ford design manager Melvin Betancourt. "The money we raised will enable Young Eagles to reach for the skies as well."
"Few things are as streamlined, as gloriously intimidating as the shape, metallic color and sinister speed a fighter jet represents," said Betancourt. "The simple, extreme functionality of the cockpit alone proved inspiring, prompting the team to create matte finishes, purposeful gauges, controls for ready proximity and
dramatic LED lighting for the instrument panel."
Highlights of the Ford F22 F150 Raptor include: Whipple-intercooled, high-output 3.5-liter twin-turbo EcoBoost making 545 horsepower and 660 lb.-ft. of torque – taking off-road performance to intimidating new levels, Modified Addictive Desert Design front suspension and bump stop kit.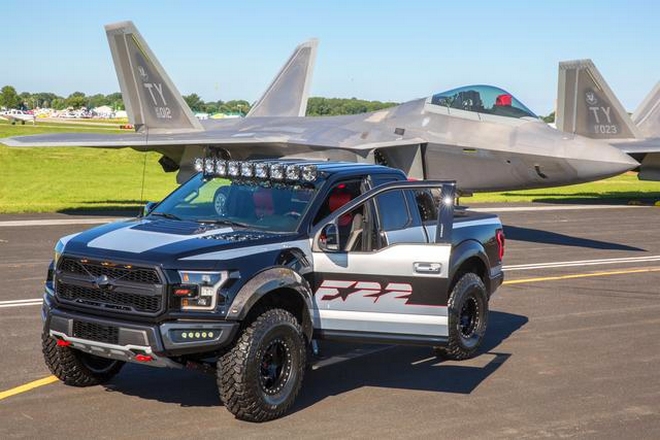 Add also:
Deaver rear spring pack to provide a smooth, progressive suspension;
Fox bypass series shocks with adjustable compression and rebound valving to customize damping for on-road and off-road use;
Innov8 Racing custom forged beadlock wheels with Falcon Wildpeak tires;
Upgraded Alcon six-piston painted calipers, oversized rotors, high-friction pads;
Modular off-road 1.3-million candela LED lighting system by KC Hilites;
Kicker audio system with 1,500 watts of amplification;
Unique Sherwin-Williams exterior paint integrating F-22 Raptor jet cues including titanium grille with front silhouette of the aircraft; jet cues featured on the interior as well;
Amp Research power retracting steps;
DeBerti two-tire, gas and ProEagle jack holder;
LineX sprayed bedliner;
All-stainless-steel cat-back Borla exhaust system with carbon fiber tips;
DeBerti carbon fiber fender flares, hood and fender vents;