CELSIUS X VI II – Mechanical Phone 2nd Generation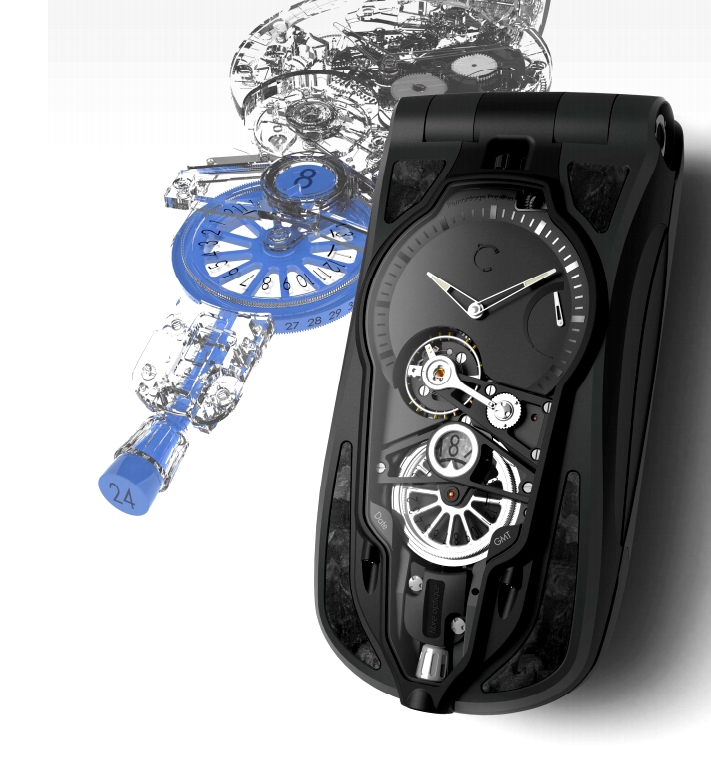 Distinguished by sleek, flowing lines inspired by the world of Formula 1 motor-racing and refined finishes characteristic of haute horlogerie models, the new OptiC GMT Furtif mechanical phone from Celsius X VI II manufacture (the creator of the first mechanical mobile phone) innovates with a mysterious fibre optic microguide technology dual display, "Butterfly Winding System", image guiding system and battery ejection system.
The date numbers appears on a small pixelated screen, as if emerging from nowhere, states the French company. They are in fact inscribed on a rotating cylinder nestled at the heart of the micromechanical movement, and they are conveyed thanks to an innovative Image Guiding System.
Developed by Celsius X VI II in collaboration with Schott AG Lighting and Imaging, this Image Guiding System uses solely mechanical and optical components. It is made of millions of parallel-moulded optic fibres forming an almost perfectly joined cylinder and cone. Every single optic fibre transmits a pixel of light and it is the combination of all the fibres that enables the system to transmit a clear image from one side to the other.
Celsius X VI II's Image Guiding System is also involved in the dual timezone display where it creates a magnifying effect on the hour numerals. The Image Guiding System is an authentic revolution for the watch industry, opening up new perspectives by giving access to information housed in the darkest corners of a mechanical movement.
The new mechanical phone is crafted from functional materials such as titanium, rubber, carbon fibres and composite materials charged with quartz. All materials have been chosen according toclearly defined functional criteria to ensure the highest performance. In its quest to optimise communication, Celsius X VI II selected a composite material charged with quartz to protect the antennas of the mobile. Endowed with mechanical properties similar to carbon fibres, it boats the invaluable asset of being perfectly permeable to telecom waves. For this reason it is used to produce jet aircraft noses where the antennas and radars are placed.
Celsius X VI II OptiC GMT Furtif will be available as of December 2012 in a 28-piece limited edition retailed at ~ 76640 EUR excl. tax.