2012 Hear the World calendar: a unique photo collection for a good cause
Hearing loss – a neglected issue

Sting, Georgia May Jagger, John Legend, Monica Bellucci and other stars, all have been photographed by Bryan Adams for the 2013 Hear the World calendar in the pose for conscious hearing. Captured with their hands cupped behind their ear, they help raise awareness about the importance of hearing and hearing loss. 100 per cent of the sales proceeds go to the Hear the World Foundation.
The Hear the World Foundation is campaigning for a world where everyone has a chance to experience good hearing. It focuses particularly on providing aid for children with hearing loss, to enable them to develop at an appropriate rate for their age. Since 2006, Hear the World has supported more than 45 projects across five continents.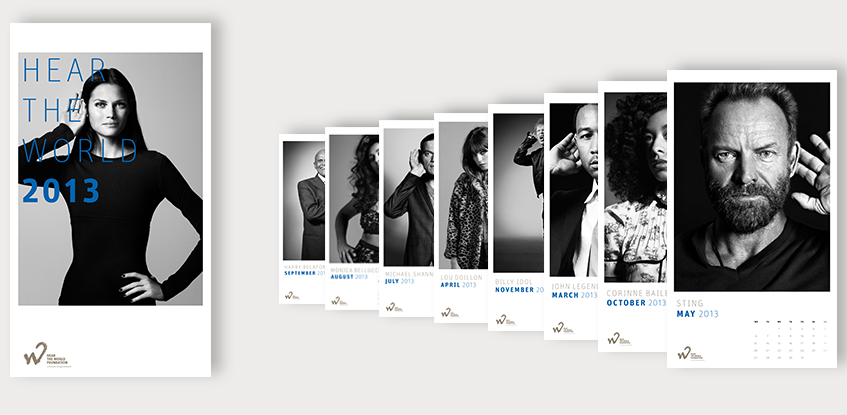 This unique collection of striking photo portraits is both a work of art and an appeal for support, with the monthly images of stars drawing attention to the importance of good hearing. Among the notable personalities pictured are Harry Belafonte, Sting, Billy Idol and John Legend. All the photographs are by Bryan Adams. All of the stars have volunteered their time to be photographed for the cause.
Over 630 million people across the world are affected by hearing loss, and around half of these cases could have been avoided if preventive measures had been taken. Some 665,000 children are born with significant hearing loss every year, with serious consequences: children whose hearing loss goes untreated have difficulty learning to speak, which severely restricts their chances of obtaining a school education and developing at an age-appropriate rate – especially in developing countries.
The work of the Hear the World Foundation focuses on a number of key areas, such as the provision of audiological care for children in need as a result of hearing loss. Other areas in which the foundation is involved include prevention and education, science and research, and providing training for hearing care professionals and for parental self-help groups.