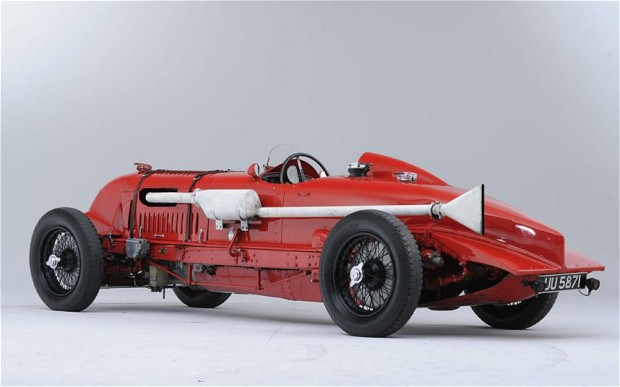 'Birkin' Bentley was named "Car of the Year" at 2012 International Historic Motoring Awards hosted at the St Pancras Renaissance Hotel and presented by five-time Le Mans winner and double World Sports Car Champion Derek Bell.
The 1931 4.5-litre Supercharged Bentley set the Outer Circuit record of 137.96mph at Brooklands in 1932, in the hands of Sir Henry 'Tim' Birkin; a truly hair-raising feat. 80 years later, following the death of its owner, legendary watchmaker George Daniels, the car set another record when it was sold by Bonhams for £5 million. The combination of unimpeachable provenance, auction excitement and sheer beauty found in this single-seater machine clearly caught the imagination of the historic motoring enthusiasts who voted to award it the Car of the Year title.
The International Historic Motoring Awards are decided by a panel of expert judges including US chat show host and avid classic car collector Jay Leno, car designers Ian Callum and Peter Stevens, Pebble Beach Concours d'Elegance Chief Judge Ed Gilbertson, Dr. Franz-Josef Paefgen (responsible for global coordination of Volkswagen Group's Classic activities), motoring journalists Robert Coucher and Tony Dron, Bruce Meyer (founding Chairman of the Petersen Automotive Museum), and Lady Susie Moss, wife of the legendary Sir Stirling Moss.
The winners of the 2012 International Historic Motoring Awards were:
– Car of the Year – 'Birkin' Bentley
– Lifetime Achievement – Lord Montagu of Beaulieu
– Museum or Collection of the Year – The National Motor Museum
– Motoring Event of the Year – Windsor Castle Concours of Elegance
– Personal Achievement of the Year – Jeremy Jackson-Sytner and Graham Sharpe (Windsor Castle Concours
of Elegance)
– Restoration of the Year – Paul Russell & Co. for the 1928 Mercedes-Benz 680S
– Motorsport Event of the Year – Goodwood Revival
– Race Series of the Year – Royal Automobile Club Woodcote Trophy
– Publication of the Year – Inside the Paddock (David Cross)
– Club of the Year – Aston Martin Owners Club
"This was the second year the Awards have been held, and we have been delighted at how the number and spread of nominations have grown in such a short period of time. We had a truly international shortlist, and an international panel of judges, underlining the worldwide appeal of historic motoring and historic motorsport. It is an industry which gives employment to a huge number of people – and gives enjoyment to many, many more," said Robert Coucher, International Editor for Octane.