Best places to study 2012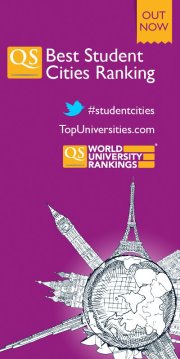 Paris topped the inaugural Best Student Cities table, which ranks cities according to measures taken from "public information, population sizes, number of educational establishments and their quality, as judged by the QS World University Rankings.
London emerged as the world's second best study city, followed by Boston, Melbourne, Vienna and Sydney. After Zurich, Berlin, Dublin and Montreal rounded out the top ten.
Based on a complex set of measures taken from public information, surveys and data submitted as part of the QS World University Rankings, the results provide a new way of comparing the best cities around the world in which to be a student.
Unlike London and Boston, Paris does not have a global top 30 university, so it may come as a surprise to some that it ranks as the top city in the world for international students. But consider this: Paris has 16 institutions in the QS World University Rankings, comfortably more than any other city on the planet; international tuition fees are a fraction of those in the UK, Australia and North America; situated in the heart of Europe, Parisian graduates are targeted by a vast range of employers throughout the continent; and perhaps most importantly for students, all of this takes place in one of the most historic, culturally vital and beautiful cities imaginable. There's a reason why Paris is the most visited city in the world.
Elite Parisian universities such as ENS Paris, Ecole Polytechnique, Sciences Po and the Sorbonne have produced some of the most important philosophers, theorists, scientists, and mathematicians of the last 100 years, not to mention seminal movements in literature, film and art. Students often enjoy extensive access to leading academics, with small class sizes and intensive teaching belying the universities' low tuition fees. Paris is frequently rated as one of the most liveable cities in Europe, and it scores highly in the quality of living indicator. Perhaps the only real drawback for students is that socializing in Paris can be a costly affair – but then it's also a city that excels in the things that come for free.
QS Best Student cities in 2012:
1 Paris France
2 London United Kingdom
3 Boston United States
4 Melbourne Australia
5 Vienna Austria
6 Sydney Australia
7 Zurich Switzerland
8 Berlin Germany
8 Dublin Ireland
10 Montreal Canada
11 Barcelona Spain
12 Singapore Singapore
13 Munich Germany
14 Lyon France
15 Chicago United States
16 Madrid Spain
17 San Francisco United States
18 New York United States
19 Tokyo Japan
19 Hong Kong Hong Kong
21 Milan Italy
22 Brisbane Australia
23 Seoul Korea, South
24 Buenos Aires Argentina
25 Perth Australia
26 Toronto Canada
27 Stockholm Sweden
28 Beijing China
29 Adelaide Australia
30 Washington DC United States
31 Vancouver Canada
31 Mexico City Mexico
33 Helsinki Finland
34 Taipei Taiwan
35 Manchester United Kingdom
36 Amsterdam Netherlands
37 Moscow Russia
38 Brussels Belgium
39 Shanghai China
39 Copenhagen Denmark
41 Santiago Chile
42 Philadelphia United States
43 Kyoto Japan
44 Kuala Lumpur Malaysia
45 Sao Paulo Brazil
46 Toulouse France
47 Birmingham United Kingdom
48 Cairo Egypt
49 Bangkok Thailand
50 Glasgow United Kingdom