12 Metre Class sailing.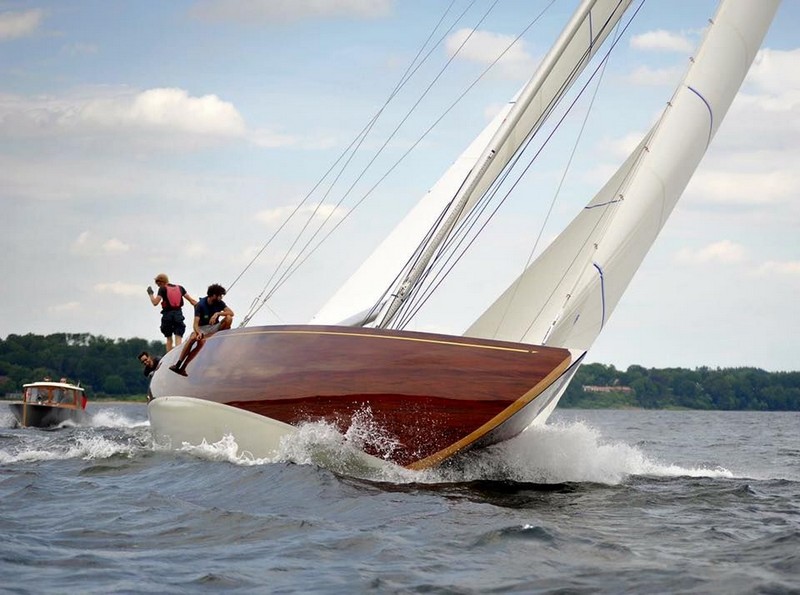 Yacht designer and naval architect Johan Anker (1871 – 1940) was known for designing long sleek and beautiful boats. Norwegian sailor and yacht designer who competed in the 1908 Summer Olympics, in the 1912 Summer Olympics, and in the 1928 Summer Olympics became known as the "master of lines" not only in his home country but also in the rest of the world.
The 12 Metre Class Anker 434 wooden boat, Johan Anker's ultimate masterpiece, was designed in 1939, but was never built. The amazing boat was revived by the experts from Robbe & Berking Classics shipyard.
"At the age of 68 Johan Anker created his latest 12 Metre Class design in 1939 before he passed away in the following year. Due to the outbreak of war his design No. 434 was never built. Robbe & Berking Classics retrieved the complete set of drawings and is pleased to build this remarkable 12 Metre Class design on behalf of a Scandinavian owner committed to Metre Class sailing," explained Robbe & Berking Classics.
Johan Anker achieved an outstanding reputation in his period of activity not only as designer and builder of many successful yachts but also as successful sailor. Amongst others he was the initiator of the legendary conference held in London 1906 where the major sailing countries agreed on the International Rule of Measurement for Rating as the first international handicapping system.
The shipyard "Robbe & Berking Classics" was founded in the summer of 2008, following the restoration and complete re-build of the 12-metre yacht "Sphinx" to benefit from and to expand on the very special skills and expertise that have been generated for this exceptional project.
Located in the harbour of Flensburg, Robbe & Berking Classics is now restoring classic motor and sailing yachts and are also building replicas of historic yachts that have been lost.
Except from designing several International Meter Rule yachts, the most noticeable design from John Anker is the Dragon from 1929. The Dragon became an Olympic class and is still today a fast-growing keel boat class that is raced in over 26 countries in 5 continents.