Gulf Craft's Majesty Yachts Line to Impress at Cannes and Monaco Shows.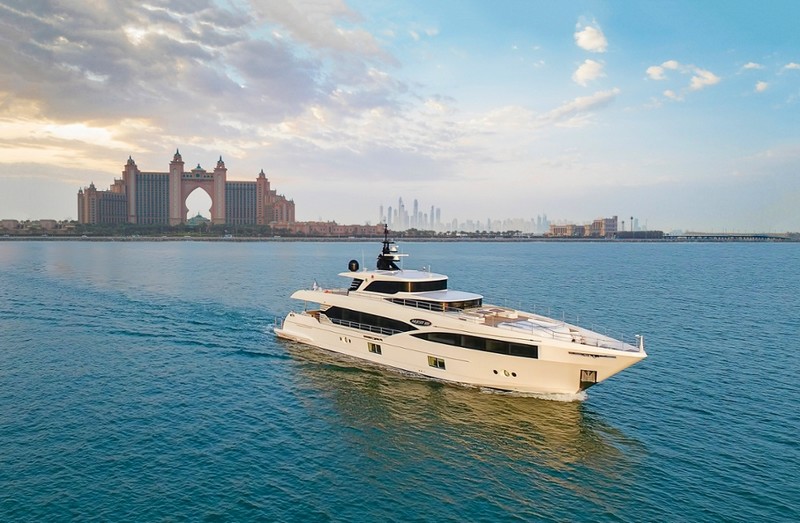 Gulf Craft will put the world's superyacht building fraternity on notice once again at Cannes Yachting Festival and Monaco Yacht Show, this year with the European debut of the latest superyacht addition to its Majesty Yachts brand – the Majesty 100.
At the end of June, Gulf Craft has delivered the first Majesty 100 superyacht (M/Y Nahar) to its new owner. The luxurious 32-meter craft made its debut back in March at Dubai International Boat Show, and now the first person to order one at the event has taken delivery of his second Gulf Craft built yacht. The Gulf Craft Majesty 100 will make its European debut at the prestigious Cannes Yachting Festival on 12 September, says the trendsetting UAE shipbuilder.
Gulf Craft is a brand of luxury fly-bridge yachts launched in 2004, with extensive range of yachts from 48 feet (15 m) to 155 feet (47 m) under one roof. In 2016, Gulf Craft announced its megayachts projects- Majesty 200 and Majesty 175 at the Monaco Yacht Show. Gulf Craft launched at the 2017 Dubai International Boat Show, its first sky-lounge superyacht, the Majesty 100.
"The Majesty 100 is a dream for entry-level superyacht owners, whether they want to unwind by the marina or venture out onto the ocean," said Gulf Craft's CEO, Erwin Bamps. "Its delivery marks an exciting new phase in the model's milestone, and we're thrilled to see our team's efforts come to fruition."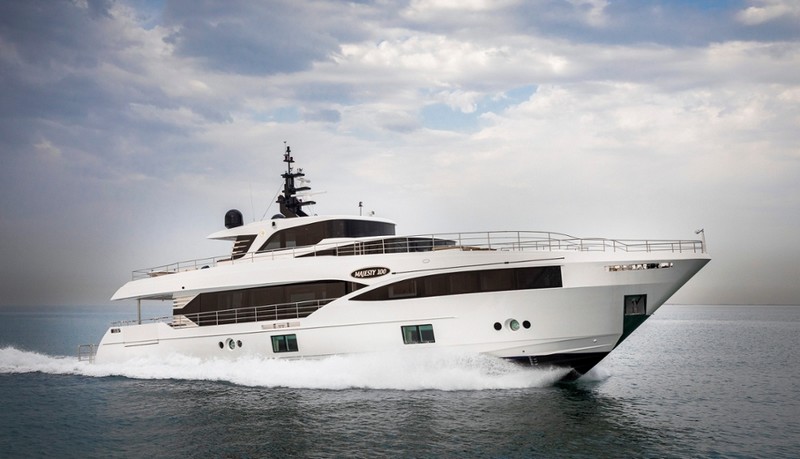 At 32 meters the Majesty 100 is Gulf Craft's entry superyacht and the very first to feature a sky-lounge – a more comfortable version of the traditional fly-bridge. Amply accommodating relaxation areas, a wet bar, electric barbeque, and even an optional Jacuzzi, it enables passengers sitting in the lounge to take in fabulous views as they relax inside. It also has two balconies, one on each side of the rear seating area, and a huge raised wheelhouse where guests can sit back and watch the captain in action up close.
When operated at a speed of 12.3 knots, the Majesty 100's fuel consumption is impressively economical. It allows a cruising range of 1,050 nautical miles and can sail at up to 23 knots thanks to its two powerful 1,900 horsepower MAN engines.
V-Drive propulsion offers a smoother, quieter ride, as do the ingenious fin stabilizers. The Majesty 100's sophisticated remote-control steering system offers an easier, more efficient way to maneuver the superyacht, making docking a breeze. When passengers wish to step back on dry land, an innovative sliding mechanism lowers dinghies right onto the water, a process that was designed and engineered by Gulf Craft's technical and design departments.
In addition to the spectacular Majesty 100, Gulf Craft have also confirmed the display of its Majesty 110, the first tri-deck in the Majesty Yachts portfolio.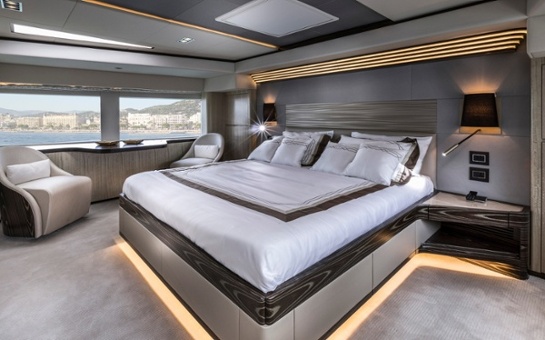 The selection of both yachts for display at the two shows is reflective of the Emirati-based builder's growing confidence in the global appeal of the Gulf Craft brand's trendsetting design and innovation.
"The Majesty 100 has completely reimagined what it means to spend time on the water with family and friends. An all-new experience, even for the most experienced luxury cruiser, time spent on the Majesty 100 is time invested in life at its very best," company executives explain.
The model's success has been reflected in the impressive sales in the Middle East and Asia and she will soon make her debut in Europe.
Guests can visit Gulf Craft at the superyacht extension at Cannes Yachting Festival, which takes place from 12 to 17 September 2017, and at the T-Central area at Monaco Yacht Show, which takes place from 27 to 30 September 2017.