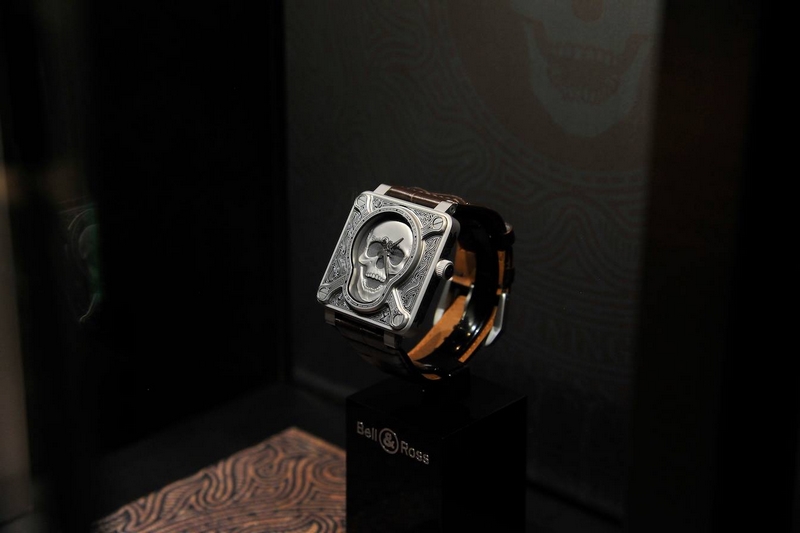 The mythical fires of hell together with the skull are the most striking designs used to decorate the skin.
BR 01 Skull is a collection of pure talisman watches, a range initiated by French watchmakers Bell & Ross back in 2009. The military symbolism and exceptional craftsmanship of this watch make it truly one of a kind. This year's reiteration of the skull motif adds a fiery aura to the talismanic spirit of the original Skull model.
The watch is emblazoned with sparks flying in all directions, on both the front and back, with an array of details covering every surface and recess.
Turn the watch over, and even the visible inscriptions on the case-back seem to be taken from a real tattoo, with the curved letters appearing to follow the contours of an arm. Its edgy graphics include numerous motifs symbolising destiny and mortality: a heart, a rose, a scythe and an hourglass, lurking within the decoration.
The skull is created from stamped metal, a process traditionally used for producing coins and medals, and which creates a true relief. The black Super Luminova covering the dial face further accentuates the skull, intensifying its defiant stare. The top-end watch is available in a limited edition of 500 pieces.
Bell & Ross together with Creative Director Bruno Belamich, presented the new BR 01 Burning Skull at the MUDEC – Museo delle Culture in Milano.
Paying tribute to artist Jean-Michel Basquiat and to his work inspired by the skull, Bell & Ross organized a retrospective of its BR 01 Skull collection since the first model launched in 2009.
Guests enjoyed a cocktail within the museum bistrot, followed by a private guided visit of the Basquiat exhibition.
With almost 140 works from 1980 and 1987, the retrospective exhibition at MUDEC runs through the short but intense career of Basquiat, which ended with the premature death at the age of only twenty-seven.
With his direct, and seemingly childlike approach, he brought fundamental themes of human identity and the painful, unresolved issue of race to the attention of the wider public.
Twenty years after his first posthumous exhibition at the Whitney Museum of American Art (1992- 93), and ten years after the retrospective at the Brooklyn Museum of Art (2005), this exhibition will show Basquiat's central role in the generation of his peers artists and the function of his art as a bridge connecting different cultures.