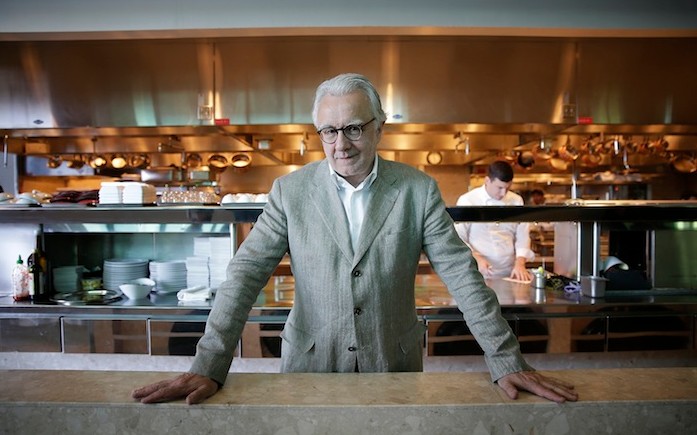 "Savoir-faire, faire-faire et faire-savoir" – Alain Ducasse. Above – the movie about the COOKPOT.  Simply delicious, the cookpot signs the end of a quest for Alain Ducasses' : the harmony between the form and the taste. A new cooking tool with generous forms, it roasts and caramelises the vegetables with harmony and sensitivity. The cookpot is a common bond between all of Alain Ducasses' restaurants across the world. From Paris to Tokyo, from New York to Monaco, it welcomes local seasonal vegetables for a balanced and respectful environmentally friendly cuisine.
---
This article titled "Alain Ducasse: the emperor of French cooking" was written by Bill Buford, for The Observer on Saturday 19th October 2013 16.00 UTC
By coincidences of geography, I have been witness to two versions of Alain Ducasse. One was in New York, where, in 2000, he arrived like evanescent vapour, sighted more than seen (and usually at airports), to open a restaurant of "very haute gastronomie française" in a fancy hotel facing Central Park. It failed. He persisted – miX in 2003, Adour, 2008 – and failed again. For his part, Ducasse wasn't to know that a city, once famous for its French dining, was in a seethingly anti-Gallic moment. Its legendary "mid-town Frenchies" were closing, as though contaminated, one after the other. New York, having fallen in love with simplicity, and olive oil and pasta, saw Ducasse as just another guy doing the French luxury thing. His name could have been Chanel, or Dom Perignon. He was a brand. New York didn't get Ducasse. (Benoît, Ducasse's number four, is a success and what the city wanted all along: a bistro.)
Five years ago, I moved to Lyon and saw a Ducasse the French get. I attended a cooking school. On its staff were two recruits from Ducasse's École de Cuisine in Paris. They were not instructors. They were drill sergeants from a culinary nation: extremists in their knowledge, obsessives in their attention to detail, fanatics who lived the kitchen and little else. (My fish instructor was, in a colleague's description, "ruined by food".) It wasn't cooking; it was ideology. "Faire, faire, faire et faire savoir," they repeated, a Ducasse line. They were on a mission to teach people how to fashion an expression of French high culture. Later, when I acquired the five volumes of Ducasse's Grand Livre de Cuisine (think Carême, think Dubois, think the 19th century), I instantly recognised the same mission. Every page says: this is what French cooking can be now.
I once ate two Ducasse meals six weeks apart. One, at the Hotel de Paris, in Monaco, featured uncooked vegetables and raw shellfish. I vowed never to return: I didn't want to risk compromising my memory of a flat-out perfect and magical dining experience. The other, in Paris, at Aux Lyonnais, on its 125th anniversary, was ordinary. Ducasse didn't need the restaurant. He bought it to save it, not as an act of charity, but because he feared its disappearing: again, the mission.
Ducasse is no longer in the kitchen. Sitting opposite him once, I discovered why. He does not know how to behave. This is not an executive overseeing a €20m company of 1,400 employees. This is a muttering fusspot. The mise-en-place: hello? The counter: what, he has to wipe it himself? The service ("Service! Service!"): "Will you look at that artichoke?" (Ducasse doesn't "do" television, except occasionally in France. He forgets the camera; he fixes, wipes, intrudes; he is a disaster.) Why is Ducasse not in the kitchen? He is not allowed in. Maybe he, too, has been ruined by food.
Ducasse is described as an ambassador of French cooking. He is not an ambassador. He is a practitioner. He was trained by the four elements: the ingredient-obsessed Lyonnais Alain Chapel (earth), the gelatin-innovating pastry genius Gaston Lenôtre (air), the Mediterranean Roger Vergé (fire), and Michel Guérard, among the hot springs of the south west, who, too god-like to be simply water, must be Poseidon. Ducasse is the next guy. He does the now version of the great tradition. He has a lot to teach us.
alain-ducasse.com; Daniel by Daniel Boulud with essays by Bill Buford is out now
guardian.co.uk © Guardian News & Media Limited 2010
Published via the Guardian News Feed plugin for WordPress.