Iconic British TV Weatherman Michael Fish BASE Jumps for Climate Change
The climate change is a serious issue and requires serious action. Iconic TV Weatherman Michael Fish has teamed up with Award-Winning eco-fashion brand Rapanui Clothing and completed a BASE jump to raise awareness of climate change. 68 years old Michael Fish made the freefall jump, landing by parachute, after training with experienced urban BASE jumpers.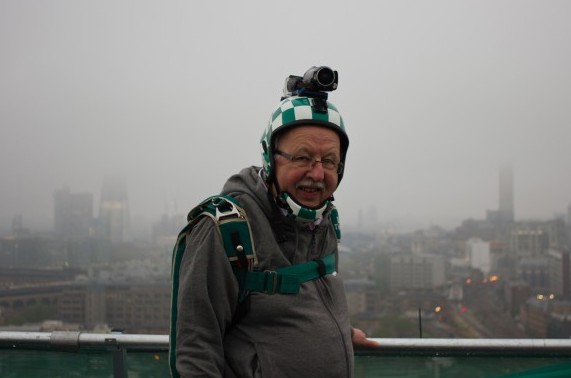 "Raising awareness of climate change is really important, because there is no doubt whatsoever that if we carry on the way we are, there will be shortages of food, shortages of water, towns and cities will be flooded, there's all sorts of chaos that could arise, in fact some of it is already happening," said Michael Fish MBE.
"We have to do something about it now, not wait until it's too late. If some of us have to make sacrifices, like risking our lives by jumping off buildings, then so be it," added the British TV Weatherman.
Michael worked for the BBC, and Netweather and became infamous in the wake of the Great Storm of 1987; a few hours before the storm broke, on 15 October 1987, he said during a forecast: "Earlier on today, apparently, a woman rang the BBC and said she heard there was a hurricane on the way… well, if you're watching, don't worry, there isn't!". That evening, the worst storm to hit South East England since 1703 caused record damage and several fatalities.
Michael is the longest serving broadcast meteorologist on British television and is patron of numerous organisations and charities.
If a 68 year old weatherman can jump off a building to spread the word, we can all at least turn off the light switch when we leave the room or think about sustainability when we vote with our wallets.