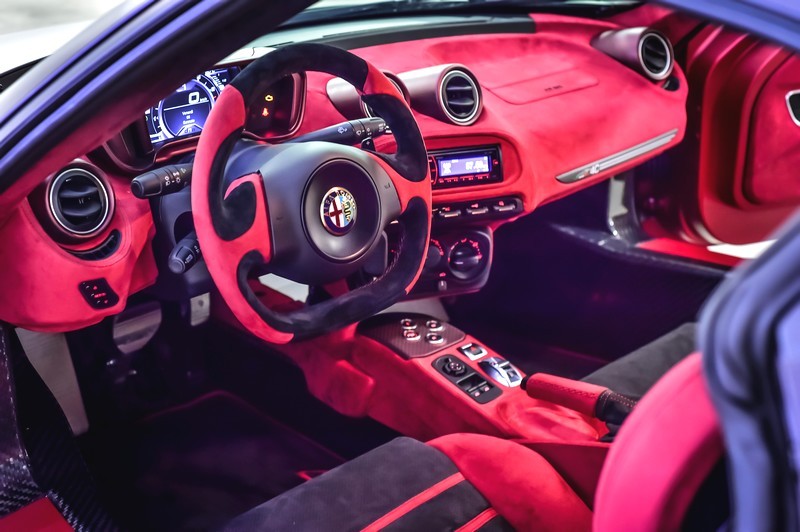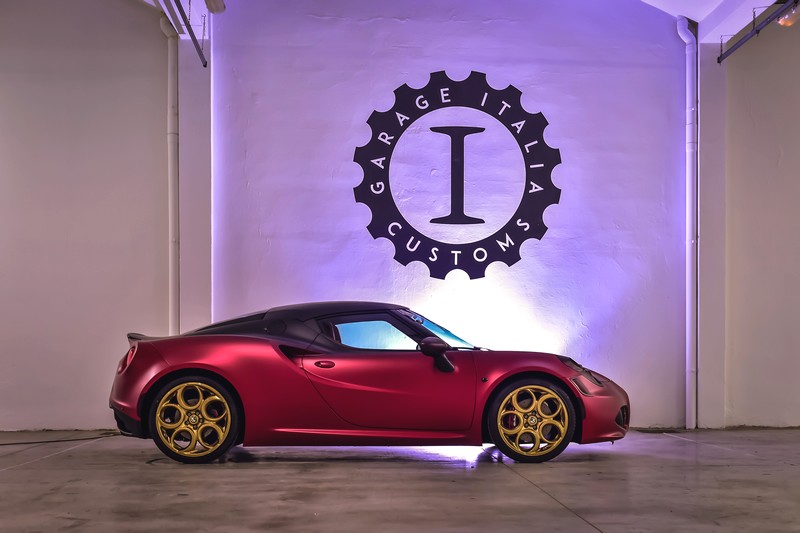 The Alfa Romeo 4C Furiosa by Garage Italia Customs with an interior dressed entirely in Italian-made material from Alcantara, debuts this week at the Dubai International Motor Show. Garage Italia Customs La Furiosa is unveiled next to the Alfa Romeo 510 CV Giulia Quadrifoglio and the latest versions of the Alfa Romeo Giulietta Quadrifoglio, the Alfa Romeo 4C Coupé and the Alfa Romeo 4C Spider.
La Furiosa is the result of the meeting between the "Mechanics of Emotions" and the Style Center together with the Maestros of Garage Italia Customs. It is a unique model that combines the high level technical characteristics of this Alfa Romeo and the Tailor Made interventions of the Lapo Elkann team specialists.
The aim of the Garage was to create a car which emphasises the 4C wild style with a strong and extraordinary aesthetic impact.Special toned-down painting characterises the external livery. The black carbon fibre roof, which allows a half-view of the weave, gradually fades to "Accursio" red, the original opalescent tonality, with "Velvet Touch" finishing. The name of this colour was chosen to honour the new headquarters in Piazzale Accursio, Milan, which will be operative from Spring/Summer 2016.
The particular opaque opalescent red was entirely developed by the Style Centre of Garage Italia Customs, using the classic Alfa Romeo range of colours as a starting point.
The gradient shading continues on the rear cover of the engine, giving the car's silhouette powerful chromatic harmony. The same shading is found on the brake callipers, where the white Alfa Romeo writing stands out.
For the carbon components which characterise the 4C – like the front lights units, the air vents and lateral mirrors – the Garage team has instead chosen an elegant candy red. Following the chromatic choices of the project, the interiors have been completely upholstered in red Alcantara: dashboard, centre console and door panels. Instead, a black perforated version of the famous Italian material characterises the central part of the seat covers, with contrasting backing and red sides.
The manufacturing of the pillars is also very particular. A special toned-down Alcantara has been applied here. It was obtained through digital printing, resulting in the same gradient effect of thebodywork painting. The headliner is in black Alcantara.